Top Green Beauty Products
Parabens, propyl, ethyl, say what? It seems more and more these hard-to-pronounce ingredients are not only being blamed as potentially harmful chemicals, but also prevalent in most beauty products. Luckily, there's tons of eco-friendly alternatives that still work all the wonders that you're looking for. Here are some of the best green beauty products out there.
(page 2 of 6)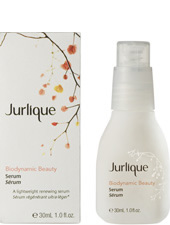 Best anti-aging offerings: Jurlique
The Jurlique line of beauty products began on a South Australian farm more than 20 years ago. Chemist and horticulturist Jurgen Klein and his wife, Ulrike, planted herbs and flowers like lavender, calendula, rosemary and rose that were eventually transformed into the Jurlique skincare line. Facial products, hair, body and baby skincare are just some of the Jurlique offerings. But for the ultimate in prevention, we recommend the anti-aging line of products.