Top Green
Accessories
Being eco-friendly doesn't just include your skincare and clothes. Now there are tons of super chic eco-friendly accessories too. From engagement jewelry and stylish handbags to daily adornments, here are some of the best eco-friendly accessories out there.
(page 5 of 5)

Fifi Bijoux
For the latest in fair trade eco-friendly gold jewelry, look to Fifi Bijoux. The UK-based jewelry line offers modern understated accessories like necklaces, pendants and earrings too. All gold sourced for the line is acquired via fair trade practices and the gemstones in the pieces all come from socially and environmentally responsible mines.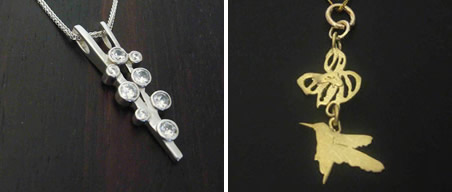 Ananas
These handbags are so chic, it's hard to believe they're sustainable too. Select bags in the collection are made of all-natural fibers and incorporate organic materials sourced from the Philippines like coconut shells, polished native woods and mother-of-pearl shells. Each handbag is then handmade in New York and already has a celebrity following among Hollywood starlets like Cameron Diaz, Anne Hathaway and Jennifer Garner. Plus, the entire line of handbags is sustainable since for each handbag sold Ananas donates one tree to Trees for the Future.