(page 2 of 2)
Make a change every week of the year!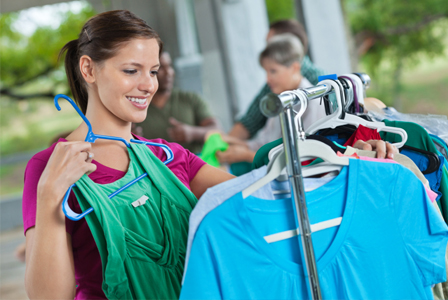 Going green isn't as tough as you think. Slowly make the switch by making one easy change each week of the year.
Eco-friendly & economical
28
Get the junk out of your trunk (literally!) — extra weight in your car decreases fuel efficiency.
29
Have a yard sale — or visit one before you head out to buy something new.
31
Pick up litter as you're walking around. You didn't get to enjoy the $5 latte, but you get to know you put the cup in the recycle bin for free.
32
Take the stairs instead of the elevator (great for the environment and your health).
33
If you have a baby, use cloth diapers instead of disposables.
34
Buy used or e-books instead of new.
36
Buy a bigger jug of milk. If you only use half a gallon at a time, you can pour half the milk into a carafe and freeze the rest.
37
Use compact fluorescent, LED or halogen bulbs instead of conventional incandescents.
38
For your kids, buy crayons made of soybean oil, not paraffin. For your babies, try eco-baby shops.
39
Wear an extra sweater or use a blanket before you resort to turning on (or up) the heat.
41
Call a mechanic to get a tune-up for your car to avoid excess wear and tear on your automobile, saving money on gas and ensuring your vehicle runs cleaner.
42
Pay your bills online (and opt for paperless billing) to reduce paper usage and postage costs.
43
Switch to a manual can opener. It's really not that complicated!
44
Buy a refillable container for your water or morning coffee instead of using paper cups or store-bought water bottles. Buy one with a built-in filter to avoid tap water instead of purchasing bottle after bottle of "spring water."
45
Get out your rake and leave your leaf blower in the garage to cut down on emissions (not to mention get a good workout). Check out these other ways to eco-friendly fitness.
46
Switch to Energy Star-qualified appliances when you upgrade. Even if they cost a little more, they'll actually save you on your electricity bill in the long run.
48
Use chlorine-free feminine hygiene products, or try products like the menstrual cup.
49
Ask dinner guests to bring reusable to-go containers with them (or keep inexpensive ones you don't mind losing on hand) so you can easily pack them some goodies to go home. (Think about cooking a couple of vegetarian holiday dishes, too.)
50
Invest in a roasting pan instead of using disposable ones (you'll save money in the long run and it's a lot easier to pull a full ham or turkey out of the oven in a sturdy pan than an aluminum one).
51
Planning a party or wedding? Hire green vendors and go with natural decorations when possible. If you'd like to make a statement with your nuptials, plan a green and organic wedding.
52
Make a resolution to be even more eco-friendly next year. Here are 21 more ways to go green.
More about going green from SheKnows
Health benefits of going green
Giving your home a green makeover
Raising green kids