Las Vegas Vacation
Luxury spas, upscale hotels, hot clubs and bars, and celebrity chef restaurants make Las Vegas the ideal one-stop destination for a girlfriend getaway. This is your guide to a guilt-free good time with the girls in Las Vegas.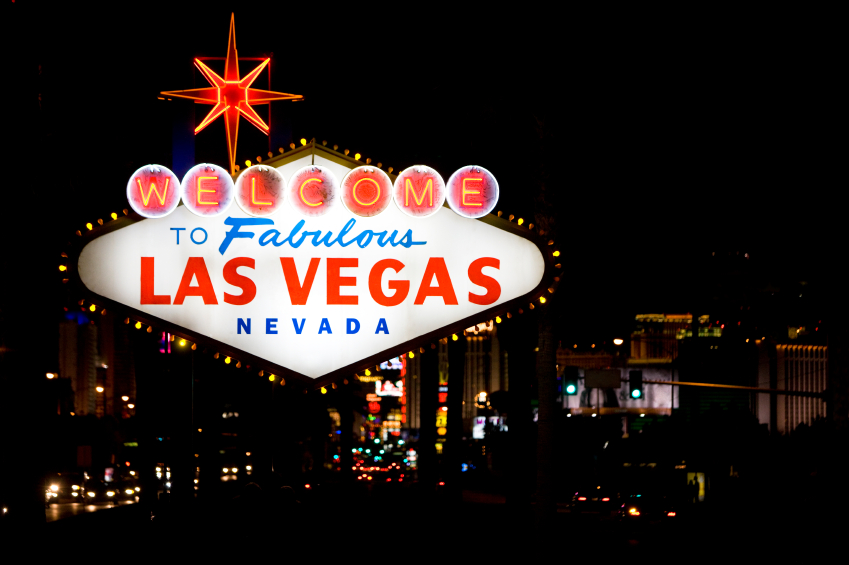 Eat, drink and be merry in Las Vegas
In between stints partying at hot spots like the Marquee and XS, a girl's gotta eat. Reserve a terrace table at Mix in Las Vegas. Located on the 43rd and top floor of THEhotel, the Mandalay Bay's posh boutique hotel, Mix is an unforgettable culinary experience. Chef Alain Ducasse blends the best of French and American cuisine, and if you have about two hours and five pounds to spare, savor the Chef's five-course tasting with wine pairings while enjoying a spectacular view of the strip. Inside, the scenery is equally impressive -- Mix is home to largest chandelier in the world with its 15,000 hand-blown Murano glass balls. When you're done devouring delicacies like spicy crab salad with mango, crusted Atlantic cod with eggplant caviar, and deconstructed tiramisu, head to the adjacent Mix lounge for a nightcap and calorie-burning on the dance floor. That's where the boys are!
CatHouse at the Luxor
Check out CatHouse at the Luxor, where Chef Kerry Simon makes comfort food sexy. The restaurant and lounge's interior mimics a 19th-century bordello and a lighted booth in the dining room reveals a bra-and-panty-clad show girl applying her makeup. While you take in the seductive scenery, nosh on tasty arancine lemon risotto balls with mozarella and marinara, decadent truffle mac-and-cheese, and delicious grilled Tuna Nicoise with potatoes, capers, Haricot vert and olives. Stick around for drinks and dancing -- after hours the downstairs lounge is one of the Strip's hottest clubs.
Samba Brunch at Sushi Samba
Go for "Samba Brunch" at Sushi Samba at the Palazzo. The eclectic, street-art decorated restaurant fuses Brazilian and Japanese cuisine. Highlights of the brunch menu include the Asian pear pancakes, the "Carmen Miranda" fresh fruit, granola and yuzu yogurt, and the smoked fish platter. You can also order fresh sushi, sashimi, and ceviche a la carte.
Minus 5 Lounge
Nurse your hangover from Minus 5 Ice Lounge, the Mandalay Bay's ice-carved vodka bar and lounge where patrons don parkas to ward off the minus 5 degrees chill, with a hearty breakfast platter at Jimmy Buffet's Margaritaville at the Flamingo. But be careful not to relapse. They also serve a mean cocktail.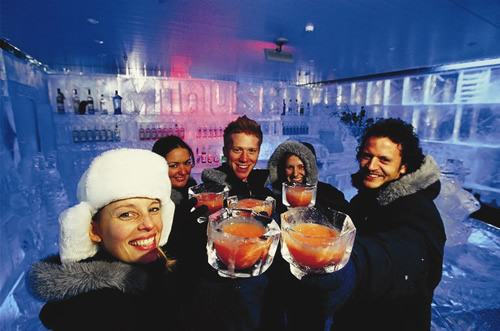 Get pampered
What would a girlfriend getaway be without spa time? The Spa at the Wynn Las Vegas is a great place to start. Sign up for the spa's signature Good Luck Ritual ($250) a treatment based upon the five elements of Feng Shui, an ancient Asian art used to achieve health, wealth, prosperity, happiness and harmony. Including a 80-minute custom massage, this unique treatment combines heated Thai herbs, a luxurious lemon verbena and peppermint foot treatment, ultra moisturizing hand therapy, and a relaxing, wild lime botanical scalp treatment.
Get Revved Up at Le Rêve
Featuring breathtaking aquatic and high-flying acrobatics, comic relief, and sexy Latin dancing, "Le Rêve" (The Dream) at the Wynn Las Vegas captures the imagination. The show's international cast of more than 80 athletes and entertainers captivate from beginning to end with gasping high-dive stunts and synchronized swimmers doing the tango in red high heels. Enjoy the show in grand girlfriend getaway style with the VIP Indulgence Package ($179) complete with champagne bottle service and behind-the-scenes video monitors.
Indulge your showgirl fantasy
Shed your inhibitions and get loose with Stripper 101, a class that teaches more than 25 actual strip club moves and choreography with boas, chairs and poles. The best part is you don't have to take your clothes off, and this all-female class provides a supportive environment to pretend that you're Elizabeth Berkeley in "Showgirls" and burn off those buffet calories. Try the Stripperella Package ($80), which includes a class for one, one cocktail, Official Stripper 101 license, souvenir photo, Stripper 101 t-shirt, and choice of American Storm show ticket or VIP Tao Nightclub admission with a free drink.
Pillow talk
Although you probably won't spend much time in it, a comfortable room lays the foundation for a successful girlfriend getaway. Here are a couple cool options.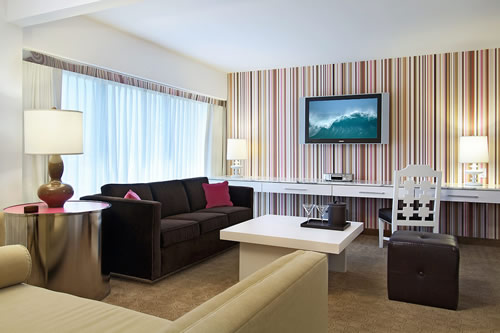 The Flamingo
The Flamingo may be a fading grand dame on the strip, but its central location and new and modern "Go Room" mini suites – accented by retro striped wallpaper; a plush, white headboard; flat screen TV and DVD player; and a cozy sofa and chaise lounge – make it perfect for a group of gals on the go.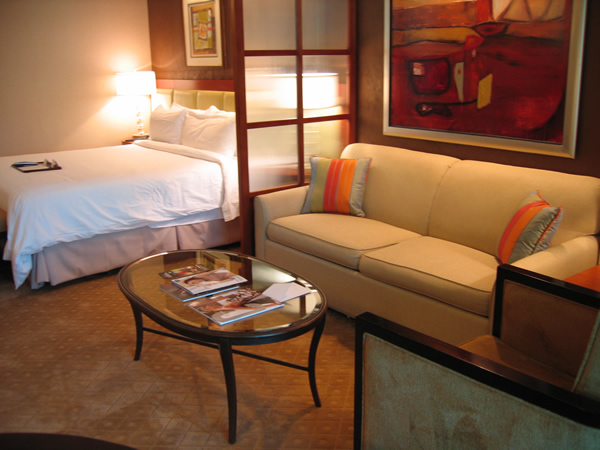 Photo by John Carluccio
Signature at MGM Grand
If you'd prefer to party on the strip and then tuck in at an upscale property with no casino and apartment amenities including a stove, refrigerator, and microwave, the Signature at MGM Grand is the hotel for you. Although it's adjoined to the bustling MGM Grand hotel and casino, the Signature feels a world apart. Whereas other Vegas hotels reek of cigarette smoke and liquor, the smoke-free Signature literally smells like roses. You won't want to leave.

More about Las Vegas travel
5 Best spas in Las Vegas
5 Great Vegas restaurants for foodies
Top 6 Las Vegas strip hotels