(page 2 of 2)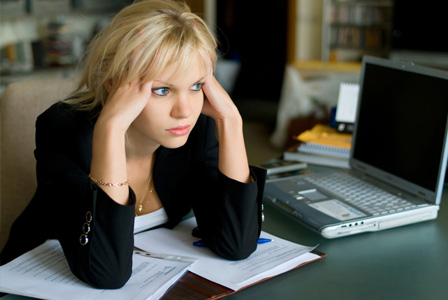 The cult-classic movie Office Space and NBC's laugh-a-minute take on a popular Brit-com The Office constantly remind us how daunting it can be to work the 9-to-5 grind .
How to love your job -- even if you don't
In addition to maintaining a positive attitude, self-motivation and a good work ethic, here are 10 ideas to keep that smile on your face Monday through Friday.
Remember that it could be worse
In these uncertain times, there are people who have no job or are working jobs they're technically over-qualified for. If you have a job at all, you're ahead of a lot of people. Even if you're doing a task you absolutely hate, try to think of three to five jobs that you'd hate worse. If you're not Mrs. Fix-It, working as a vehicle mechanic would be torture. If you hate talking on the phone, be glad you're not in telemarketing.
Stay active
Stand up, stretch and move. If you don't have the option of working out at an office gym during lunch, find other outlets for moving. Take the stairs instead of the elevator. Visit a coworker at his desk instead of emailing. Take a bathroom break and secretly do 10 jumping jacks in the stall (30 if you plan to snack afterward). Try doing desk exercises while checking email.
If you have a work friend who's just as committed as you are, try eating a sensible lunch at your desk at a set time each day. Then use your lunch break to do a power-walk (or two) around the block. Just make sure you bring extra clothes for your walk, extra deodorant and a washcloth to wipe yourself off in the bathroom afterwards.
Indulge your senses
Smell is one of the most powerful senses you have. It can evoke memories of days gone by, relax you, inspire you or make you more productive. Invest in scented candles or Scentsy fire-less burners and find the best scent for you. Does cucumber-melon make you ultra-productive? Are you at your most creative as you sniff the warm aroma of sandalwood? Or do you just need a little sage and lemongrass scent to calm you down after a confrontation? Experiment with different scents until you find something that works for you.
Honesty is the best policy -- mostly
When dealing with coworkers, you want to be polite, but sometimes they just get under your skin (even if you like them). If someone's irritating you to the point of distraction, though, it's time to bring it up. They'd much rather be confronted by you than by the boss after you tattle-tale.
Decide what's really irritating you and speak about that specifically. Do it from a place of respect and helpfulness. Be direct, but skip unduly negative characterizations. Make sure you take the person aside in private, rather than confronting them in a group. They're likely to get defensive if confronted in public, whereas they may be open to conversation and change if it's a one-on-one talk.
Always remember the compliment sandwich. First tell them something you like about them, then tell them what they're doing that annoys you. Follow up with another compliment. It also pays to remember that you may be the only person irritated by their behavior and they may not be willing to change. If that's the case, try to ask yourself whether you might be in the minority. What you consider aggressive behavior from your coworker may simply be insecurities about your own performance.
Have another outlet
It's not good for you to keep your feelings pent up. Make sure you know which of your non-work friends you can talk to about what happens to you every day. If you have a husband or boyfriend or a close friend you meet with regularly, make a habit of telling them about the things that annoy you if they're up for it. But unless you have a particularly big problem you need their help solving, keep the b****ing about work to a minimum (no more than 15 to 30 minutes). And don't forget to return the favor by listening for as long as you talk.
Get more career advice
Get expert career advice and interview tips
Career advice for women
Career, money & time management tips
---
The opinions expressed in this article are of the author and the author alone. They do not reflect the opinions of SheKnows, LLC or any of its affiliates and they have not been reviewed by an expert in a related field or any member of the SheKnows editorial staff for accuracy, balance or objectivity. Content and other information presented on the Site are not a substitute for professional advice, counseling, diagnosis, or treatment. Never delay or disregard seeking professional medical or mental health advice from your physician or other qualified health provider because of something you have read on SheKnows. SheKnows does not endorse any specific product, service or treatment.