Digital
Photo Books
Memories are priceless, and what better way to hold onto those special memories than in a digital photo book? With just slight technological skills, you can create a photo book and archive today's memories for generations to come. Check out how easy it can be.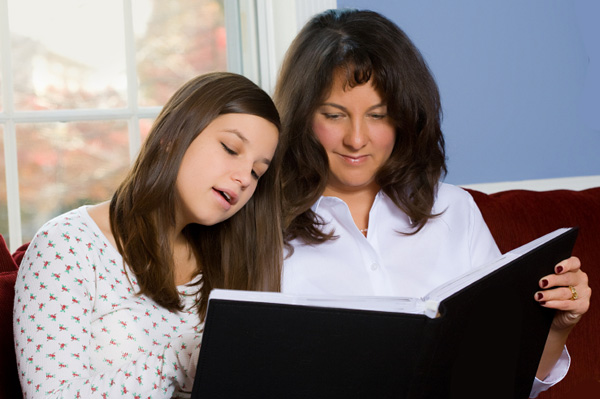 The days of photo albums with paste-in pictures or even scrapbooking are becoming a thing of the past. Today, an easy, fun way to save cherished photos is in a photo book that you can create online. Books are available in a variety of sizes and in price ranges that can fit anyone's pocketbook. They come in hard and softbound, mini-books, flipbooks and in a huge variety of colors, graphic designs and themes. Covers can vary from plain with a title, to a keyhole photo, to a full cover photo. The possibilities are as endless as your imagination.

A photo book can be a beautiful, personalized special holiday gift to a friend or family member. It can also be a special way to hold onto memories for yourself. All you need is a digital camera, a little bit of imagination and time to devote to its creation. Start with theme ideas of what you would like your book to accomplish.


Book Themes
• Holiday Dinner – photos and remarks from every family member who attends your holiday dinner.
• Biography – a cover to cover history of you or a cherished family member
• Pet – a special way to preserve memories of a pet who has passed away
• Vacation - a coffee table book of your wonderful vacation
• Personal memoirs – highlight the achievements in your life
• Hobby/Collection – catalog those special items for others to enjoy
• Children's Projects – promote pride by showcasing your child's projects
• Special Event – capture a special event like a wedding, graduation, or birthday
• Poetry – use lovely photos you've taken to accompany your poetry
• Cookbook – a really special way of archiving your family recipes, complete with photos, to pass on to your children
The creativity in you
The beauty of this type of project is the finished product is a complete reflection of your creativity. You select (and shoot, if you like) all the photographs. You write all the text and captions. You decide on the style, colors, theme layout and overall design of the book.
And…it's easy too
• Choose a theme – Decide on what your book aims to accomplish.
• Photos – Take or gather together your digital pictures. They should be good quality, high resolution, crisp and in focus. Non-digital photos must be scanned into a high-resolution JPEG format.
• Select an online photo book publisher. There are many to choose from. Compare prices and what they offer. Most offer free software for creating your book. You'll also come across special deals, free shipping, and first time customer offers. Each site will walk you through the steps to creating your book. Find one that's easy for you to understand. If you take time to do research and comparison-shop, you will find the publisher that's right for you.
• Plan ahead - Organize your photos into chronological order of appearance in your book. Scratch out how you would like the captions and text to read.
• Create – Follow the publisher's step-by-step directions for creating your book. It's as easy as dragging and dropping images into the layout and typing in your text.
• Proofread – Have someone else proofread your text for typos, spelling errors, etc. (It's always easier for others to find our mistakes.)
• Take one last look – Make sure your book looks and reads exactly the way you want.
• Check out – Finalize your transaction.
• Wait! This is the hardest part. Waiting for your book to come in the mail can feel like an eternity, but the wait will be worth it.
Once you see how easy and cool it is to create a photo book, you'll be looking for excuses to create more. In fact, you'll find photo books to be a great gift of memories for any holiday, or for no holiday at all.
Some photo book sites….
http://www.blurb.com/
http://www.picaboo.com/
http://www.shutterfly.com/
http://www.snapfish.com/
Related Articles:
Creating an online photo album
Five ways to improve your photos
10 tips for taking memorable pictures
Taking perfect pictures is a "snap" - Tips for better photography