Host A
Harvest Party
Instead of hosting a Halloween party this year, have an autumn harvest party celebrating the fabulous festivities of fall. Invite your friends over for pumpkin carving, apple cider, fall food and harvest games. Here's your harvest party how-to.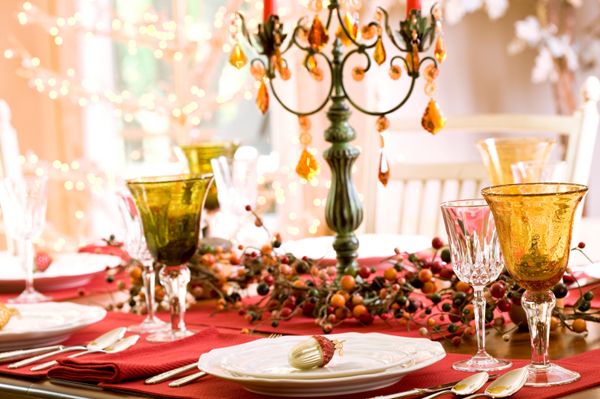 Autumn-themed invitations
Get crafty and create hand-made invitations out of fall leaves (which can be picked up at a craft store) or real mini-pumpkins (which can be picked up at your local market). Write your party info on the leaves or pumpkins and hand deliver them. Or if you don't have the time or want to be paper-free and eco-friendly, visit
www.evite.com
for fun fall-themed virtual invitations.
Decorations
Warm-colored leaves, pumpkins, apples, acorns and pinecones are the theme of this party.
Autumn decor:
String up leaves from a craft store around the party room and place various-sized baskets of mini-pumpkins, gourds, acorns and pinecones in strategic locations around your party space.
Fall-themed party candles:
Use mini-pumpkins or small gourds as candleholders by snapping off the stem and gluing a candle (or melting the bottom of the candle so it sticks) onto the top of the pumpkin. Place hurricane glasses around the candle and place floral pins around the glass to help it stay put.
Crafty pumpkins:
In addition to carving your pumpkins, forgo the knife and decorate some of them with autumn colored ribbons or paint.
Smells like apple pie:
Fill a large bowl with cinnamon sticks and top with real apples for the smell of apple pie — an apple pie scented candle is always a nice addition.
Scent-sational:
Just before your guests arrive, preheat oven to 275 degrees F. Mix spoonfuls of cloves, cinnamon, nutmeg, apple pie spice or pumpkin pie spices together. Pour them onto a square of aluminum foil and add a few drops of water. Wrap foil around spice mixture, leaving a small opening at the top. Put packet onto a cookie sheet and into the oven then turn oven off. The packet will heat up and as the water evaporates, the aroma will waft through the air as your guests arrive.
Festive fall games
Purchase a few large pumpkins (or have guests bring their own) and have a pumpkin-carving contest.
Have a few categories, like best jack o' lantern face, funniest expression, most artistic, or even worst carved pumpkin. Award the winners with a slice of pumpkin pie.
An apple bobbing contest is also a fun fall game. Be sure to section off an area with plenty of towels because it will create a mess.
Have a ring toss using pumpkins with large stems. Line up three different sized pumpkins and have guests stand at varying distances and toss rings to see who can ring the stems.
If you can find hay bales, play a game of musical chairs — but use the hay bales instead of chairs. The hay bales can also serve as decorations and extra seating.
Autumn party food and drinks
A menu of apple and pumpkin dishes are definitely ideal for this autumn bash. Be creative with your fall-themed food and drinks and keep everything miniature for easy serving and eating.
Offer your thirsty guests pumpkin punch (recipe below), pumpkin beer, and apple cider (spiked or not).
Serve an appetizer of baked brie (recipe below) paired with apples and mini-cranberry meatballs (recipe below).
Single-serving apple or pumpkin pies, autumn-shaped sugar cookies, and bowls of candy corn can satisfy the party sweet tooths.
Also, after the pumpkin carving contest, save the seeds and roast them in the oven (read
Recipes with roasted pumpkin seeds
for roasting instructions and more).
Fall-themed party recipes
Pumpkin Punch
Makes 12 servings
Ingredients:

1 large pumpkin
1 (16-ounce) carton of vanilla ice cream, softened
1 (16-ounce) bottle of ginger ale
Directions:

1. Cut off top of the pumpkin and scrape out all seeds and flesh. Wash the inside of the pumpkin with water and pat dry.
2. Scoop ice cream into pumpkin and top with ginger ale. Add some pumpkin pie spice for a more robust pumpkin flavor. Stir to melt ice cream and serve using a ladle.
Baked Brie Cheese
Makes 12 servings
Ingredients:

1 (8-ounce) round of Brie cheese
Butter
Slivered almonds or other nuts
Directions:

1. Preheat oven to 350 degrees F. Arrange Brie on a pie plate. Spread butter on the top and sprinkle with almonds.
2. Bake for 10 to 12 minutes or until soft and warm. If almonds start to brown, place a piece of aluminum loosely over Brie. Serve warm with apple slices and crackers.
Cranberry Meatballs
Makes 12 to 16 servings
Ingredients:

2 pounds lean ground beef
2 large eggs
1/3 cup dried unseasoned breadcrumbs
1 teaspoon salt
1/2 teaspoon black pepper
1/2 teaspoon garlic powder
1/2 teaspoon onion powder
1/2 teaspoon thyme
1 (16-ounce) can cranberry sauce
1 (12-ounce) jar chili sauce
1/4 cup orange marmalade
1/4 cup water
2 tablespoons soy sauce
2 tablespoons red wine vinegar
1 teaspoon dried red pepper flakes
Directions:

1. Combine beef, eggs, breadcrumbs, salt, pepper, garlic powder, onion powder and thyme in a large bowl. Form mixture into 54 (1-inch) balls.
2. Fry meatballs in a skillet over medium-high heat until browned. Do not overcrowd skillet. Take meatballs out of pan using a slotted spoon and let drain.
3. Combine cranberry sauce, chili sauce, marmalade, water, soy sauce, vinegar and red pepper in a pot and cook over medium heat, stirring, until smooth, about 5 minutes.
4. Place meatballs in pot with sauce and cook over low heat about 15 to 20 minutes or until fully cooked through. Serve warm with sauce on the side.
Here are a few more recipes ideal for fall
Fall breakfast recipes
Comfort food and autumn beer pairings
Sweet winter squash recipes for the holidays