Diet-Friendly
Autumn Treats
When breezes turn cool and cardigans cover tank tops, your cravings switch from summer's iced coffees and lemonades to hot chocolates and apple ciders. When autumn arrives, your palate is re-awakened by the tantalizing tastes of cinnamon, apple, pumpkin and chocolate. Of course, it is only natural to "eat seasonally" but it is equally important to make sure these seasonal treats do not overwhelm your daily caloric intake. Here are some diet-friendly sweets, courtesy of Hungry Girl.
(page 4 of 4)
The Apple of Our Eye
Serves 4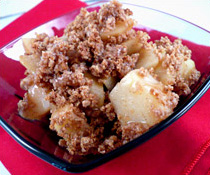 Ingredients:
2 tablespoons brown sugar, not packed
2/3 cup cold water
1 tablespoon cornstarch
2 teaspoons ground cinnamon, divided
1/2 teaspoon pure vanilla extract
1/4 teaspoon salt
3 tablespoons Splenda No Calorie Sweetener, granular, divided
3 cups peeled apple chunks (use a sweet variety)
2 sheets (8 crackers) low-fat honey graham crackers
1/2 cup Fiber One bran cereal, original
2 tablespoons fat-free liquid egg substitute
2 tablespoons no-sugar-added applesauce
Directions:

1. Preheat oven to 400 degrees F. Combine water with brown sugar, cornstarch, 1/2 teaspoon cinnamon, vanilla extract, salt and 1 tablespoon Splenda. Stir well.
2. In a medium-sized pot, combine apple chunks with this mixture. Heat the apple mixture over medium heat, stirring occasionally. Once liquid thickens to a syrupy consistency and begins to bubble, reduce heat to low and cover. Allow to simmer for 5 minutes, and then transfer mixture to a medium-sized round baking dish. Set aside.
3. Break graham crackers into small pieces. Place graham pieces and Fiber One in a blender or food processor, and grind to a breadcrumb-like consistency. Transfer crumbs to a microwave-safe dish, and add egg substitute, applesauce, 1-1/2 teaspoon cinnamon, and the remaining 2 tablespoons Splenda. Stir well.
4. Microwave graham mixture for 1 minute. Use a fork to break up the toughened mixture as much as possible, and then allow it to cool for a few minutes. Transfer graham mixture to a food processor or blender, and pulse until crumbly and uniform.
5. Evenly distribute graham topping over apple mixture. Place the dish in the oven, and bake for 10 minutes. Allow cobbler to cool slightly before serving.
Per serving: 141 calories, 1g fat, 2.25g fiber


Related Articles
Guilt-free Halloween treats
4 fabulous ways to stay fit this fall
Warm chicken salad recipes for fall