It's Better
In The Bahamas
With its tropical climate, beautiful white sand beaches, and fresh seafood, Grand Bahama Island is perfect for a low-key getaway or budget honeymoon. Although many vacationers flock to the popular tourist hubs of Nassau and Paradise Island, Grand Bahama is a hidden gem. Here is a guided tour of Grand Bahama's capital city, Freeport/Lucaya.
(page 3 of 3)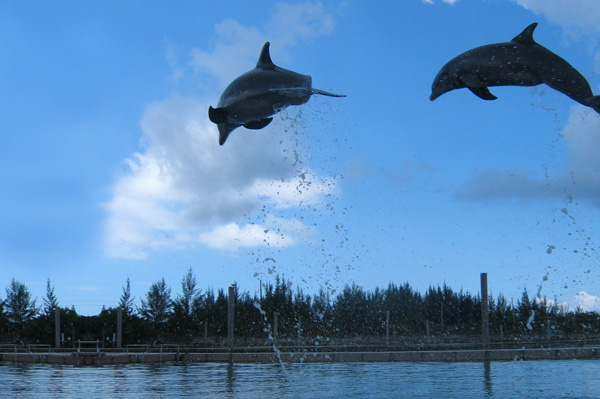 Fun in the Sun
Normally when you take a tour, you leave the driving to the guide. Well, get ready to be in the driver's seat, literally. During the Grand Bahama Nature Tours' five-hour jeep tour, you do the driving. This is a great way to explore Grand Bahama's flora and fauna and absorb the island's history and culture at leisure. A convoy of four-by-four open top Jeeps are led by an experienced island guide who gives instructions and information over each vehicle's radio. The tour follows light trafficked local roads and winds through a skinny pine tree forest and along a scenic coastal trail. The tour's highlight, however, is the excursion to Lucayan National Park, where visitors climb into the bat-inhabited Lucayan caves, enjoy a light picnic lunch, and relax at the breathtaking Gold Rock Beach.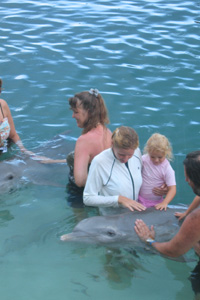 You haven't been kissed until you've been kissed by a dolphin. So don't miss the chance to get a peck on the cheek from one of the trained dolphins at Freeport's UNEXSO center. Three programs are offered. The Dolphin Close Encounter, where you watch dolphins perform tricks and then step into the shallow water and pet the cute creatures, is perfect for kids and adults not ready to take the real plunge. More confident swimmers can opt for the Dolphin Experience or the Open Ocean Dolphin Experience, where visitors swim with the curious aquatic mammals within the Dolphin Experience lagoon or in the open sea.
Photos credited to John Carluccio

More traveling articles