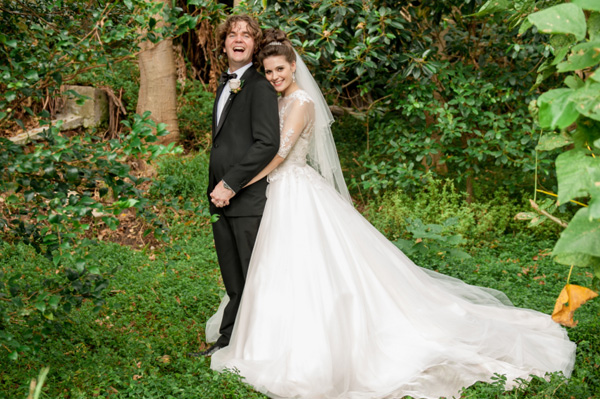 Say "I do" with an
eco-friendly wedding
Your wedding is one of the most important days of your life. If you are a friend to the environment, your wedding day can incorporate these values without sacrificing beauty and class. There are many ways you can have the wedding of your dreams while staying true to your eco-friendly beliefs. To help get you started, here are several different ways you can plan your very own earth-conscious wedding.
In lieu of gifts
Living together before marriage has long been a trend. In fact, researchers from the Centers for Disease Control and Prevention have found about 60 percent of couples live together before they marry — dramatically up from 10 percent in the late 1960s.
What does this mean? Because they're already living in a home together, many couples have already bought everything they need. If you're one of these couples and don't need any essentials to start your new life, consider asking your guests to donate to your favorite charity. Not only will you save a few trees by not wasting wrapping paper, but you will also help fund a few worthy organizations.
Organic menu
Any caterer can be green. All you have to do is get them to replace standard ingredients with organic ones. Pick a caterer you like and then discuss going the organic route. Suggest using local foods that are in season as well as free-range, organic meats raised with sustainable farming practices. Going organic not only protects the environment but also protects your guests from being exposed to pesticides.
Making your own wedding desserts is also a great way to make sure you know the ingredients being used in the food being served to your guests — and it will save you money. Here are some examples of easy and delicious organic wedding desserts.
The toast
Planning a toast at your wedding? Even the wine or champagne you serve can be organic. Champagne like Korbel Brut is made from 100 percent organically grown grapes, and companies like the Organic Wine Company sell several types of organic wines to go with your organic menu.
The decorations
What better way to stay green than to bring the outdoors indoors? Including natural elements to your wedding decor adds beauty while staying eco-friendly. Try adding bundles of wheat with flowers in your bouquet or to the backs of chairs at the ceremony. If you love candles, opt for ones made from soy or beeswax that have cotton wicks. If your candles must have a scent, look for companies that use essential oils instead of the chemicals that many candles contain. Lastly, a good rule of thumb to staying eco-friendly when picking out wedding decorations is that if you're not going to reuse the decorations, don't buy them.
Instead of buying new decorations, try using items you already have and turning them into your wedding accents. If you aren't interested in reusing items, purchase new things that can be functional at both the church and the reception. Transfer your flowers and other decorations you have on your guest book table, pews or altar and use them as centerpieces on your reception tables. Also consider using bamboo in your decorations as it is considered one of the most sustainable materials on earth. Once your reception is over, donate your accents to a local hospital or nursing home.
Invitations
Save a tree and use recycled paper for your invitations. Paper made from alternative fiber such as hemp or bamboo is another option. Also, minimize the amount of paper you use by consolidating all your information onto one page instead of stuffing your envelope with several inserts. If this isn't eco-friendly enough, go paperless altogether and send out invitations online.
More organic wedding articles
Organic royal wedding flowers
Eco-friendly wedding dresses
Planning a summer wedding reception
Photo credit: Nerida McMurray Photography/Photodisc/Getty images