An Eco-Friendly "I Do"
Anything can be green-conscious, including your wedding. It may take some awareness and energy, but there are many ways you can have the wedding of your dreams, while staying true to your eco-friendly beliefs. To help get you started, here are several different ways you can plan your very own earth conscious wedding.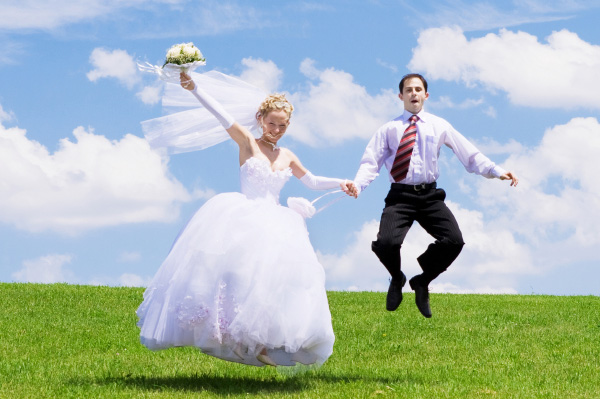 In lieu of gifts
Getting presents is half the fun of getting married. If you don't really need any of the essentials to start your new life with the person you love, why not ask your guests to donate to a good cause instead? Set up a gift registry online that provides links to your favorite charities. Not only will you save a few trees by not wasting gift-wrap, but you will also help fund a few worthy organizations.
Organic menu
Any caterer can be green. All you have to do is get them to replace standard ingredients with organic ones. Pick a caterer you like and then discuss going the organic route. Suggest using local foods that are in season, as well as free-range, organic meats raised with sustainable farming practices. Going organic not only protects the environment, but also prohibits your guests from being exposed to pesticides.
The wedding cake
Your cake can be organic without losing any of its mouthwatering deliciousness. Using organic sugar, flour, butter and eggs may be more costly, but it will definitely add to the taste. Look for a baker that specializes in organic cakes, or ask for a vegan cake, which doesn't contain any animal products or processed sugars. It still tastes divine.
The toast
For beverages, offer your guests local wines and micro brews and even coffee made with Fair Trade beans.
Recycle
Instead of buying new decorations, try using what you already have and turn them into your wedding accents. If you aren't interested in reusing items, purchase new things that can be functional at both the church and the reception. Transfer your flowers and other decorations you have on your guest book table, pews or altar and use them as centerpieces on your reception tables. Also consider using bamboo in your decorations as it is considered one of the most sustainable materials on earth. Once your reception is over, donate your accents to a local hospital or nursing home.
A responsible venue
Choose a location for your wedding and/or reception that will benefit from your event. A museum, botanical garden or art gallery will often use your fee to help fund their programs and add to the upkeep of their facility.
Invitations
Save a tree and use recycled paper for your invitations. Paper made from alternative fiber such as hemp or bamboo is another option. Also minimize the amount of paper you use by consolidating all your information onto one page, instead of stuffing your envelope with several inserts. If this isn't eco-friendly enough for you, then go paperless altogether and send out invitations online.
Honeymoon with a cause
Instead of going to a lavish resort for your honeymoon, consider giving back and go on a volunteer vacation. There are many organizations that offer trips for people who want to donate their services to build homes, work on organic farms, rebuild nature trails or participate in animal conservation.
[headline}It's all in the detailsThere are many ways to plan a green wedding and these suggestions are just the tip of the iceberg. Hiring a wedding planner that specializes in green weddings will ensure you cover all your eco-friendly bases. If that's not an option, simply seek out vendors that care about preserving our environment and create your own socially conscious wedding.
Also see:
More From SheKnows Explorer