Sexy Summer
On The Strip
What better way to escape reality than to spend a weekend in Las Vegas, the playground for adults seeking summer fun? From nightlife to poolside lounging, Vegas offers an array of hotels and casinos to suit any sexy style.
(page 5 of 5)
Palazzo
The Palazzo is the newest Vegas hotel and casino, connected to the Venetian. Shop at Palazzo's international boutiques, relax at the Canyon Ranch Spa or sunbathe on the resort's extravagant pool deck.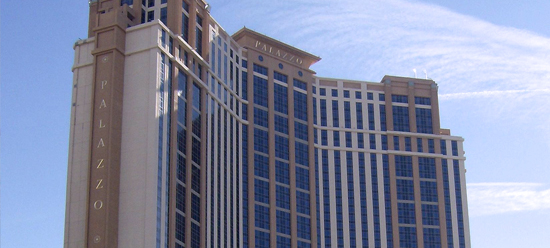 Why it's sexy


The 40/40 Club
If you need a change of pace from plush lounges and nightclubs, 40/40 is the destination for your next night out. Socialize with friends at this all-American sports bar opened by hip-hop mogul Jay-Z. Enjoy sports memorabilia honoring super athletes such as Michael Jordan and Lawrence Taylor.
Jersey Boys
The latest Broadway musical to hit the strip is Jersey Boys, dedicated to the chart-topping hits of Frankie Valli and The Four Seasons. Relive these rock and roll favorites and sing along to timeless songs such as "Sherry," "Big Girls Don't Cry," and "Can't Take My Eyes Off You."
Sugarcane Lounge
For a lavish dining and dancing experience, spend the evening at this Brazilian-inspired locale.  Enjoy sushi and cocktails while lounging on chocolate-colored leather couches, beneath Sugarcane's sculptural lighting constellation.