Sexy Summer
On The Strip
What better way to escape reality than to spend a weekend in Las Vegas, the playground for adults seeking summer fun? From nightlife to poolside lounging, Vegas offers an array of hotels and casinos to suit any sexy style.
(page 4 of 5)
Hard Rock Hotel and Casino
The Hard Rock is where to book your stay if you want to re-live spring breaks past. This locale allows party go-ers to experience fine dining at the upscale Italian restaurant Argo, or feast on trendy Mexican cuisine at Pink Taco, the social hotspot.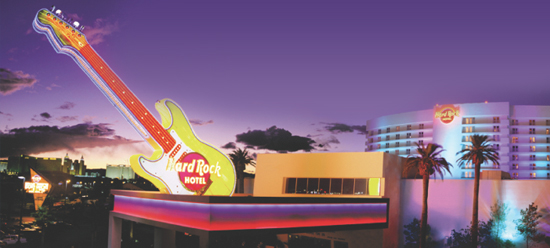 Why it's sexy


Body English
Hard Rock guests don't have to travel far for a good time. Show off dance moves at the lavish 2-story Body English club drenched in red velvet. This club never fails to disappoint with its posh décor, beautiful scene and upbeat hip-hop music.
NOBU
To eat like the elite, make dinner reservations at the world-renowned sushi restaurant Nobu. Experience the mouth-watering sushi creations by famous chef Nobu Matsuhisa. Dress to impress because 944 Magazine describes this star-studded eatery as "radiating pure elegance."
Hard Rock Beach Club
The party never has to end if you take it from Hard Rock's late-night club scene to poolside once the sun comes up. Get refreshed with Rock Star Lemonades, ultimate DJs, sandy beaches and waterfalls.