Sexy Summer
On The Strip
What better way to escape reality than to spend a weekend in Las Vegas, the playground for adults seeking summer fun? From nightlife to poolside lounging, Vegas offers an array of hotels and casinos to suit any sexy style.
(page 3 of 5)
Palms
Ever since the racy Real World Las Vegas took place in a renovated suite, the Palms has been a hot spot for celebrities, despite its off-strip location. The Palms is famed for fast-paced and trendy nightclubs, which draw the party set.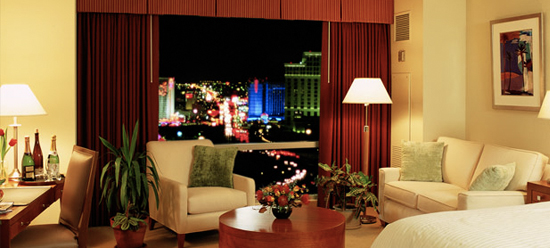 Why it's sexy


The Fantasy Tower
The Palms opened its $600 million second tower, the "Fantasy Tower," which features two nightclubs as well as a suite with a court, scoreboard and locker room. Smolder in the swanky Playboy Club or go wild while enjoying breathtaking views at Moon, the tower's rooftop club.
Ghostbar
Enjoy Vegas views from 55 stories high at the Palm's 8,000 sq. ft. Ghostbar. Mingle with celebrities throughout the indoor/outdoor bar.
Rain
If the Palms dominates Sin City nightlife, then Rain is the epicenter of hypnotizing beats spun by famous DJs. Reserve VIP service, intimate water booths, private cabanas and skyboxes. Dance into the morning on an elevated dance floor among fireballs and fountains.