Sexy Summer
On The Strip
What better way to escape reality than to spend a weekend in Las Vegas, the playground for adults seeking summer fun? From nightlife to poolside lounging, Vegas offers an array of hotels and casinos to suit any sexy style.
(page 2 of 5)
Mandalay Bay
This tropical, South Asian-inspired hotel offers more than its signature saltwater aquarium and hilarious Mama Mia! production. Mandalay Bay is the place to heat things up on the dance floor and then cool off in award-winning pools.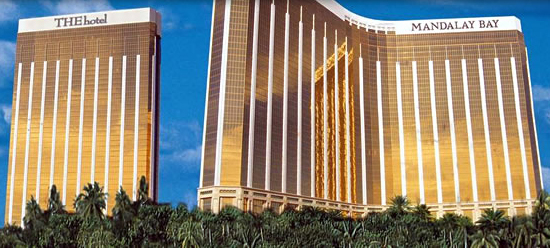 Why it's sexy


Mandalay Bay Beach
Featuring new poolside lounge chairs, beach bungalows, and 3-story beachside casinos, Mandalay Bay Beach is the perfect place for guests to get wet. Relax with friends while floating along the resort's lazy river or show off sexy swimsuits while wading in the wave pool. If you're feeling extra-sexy, visit the adults-only, European-inspired Moorea pool that allows females to tan topless.
Eyecandy Sound Lounge & Bar
After an afternoon basking in the sun and sipping drinks, you won't have to travel far for an exciting night. Creating your own audio and visual experience by using the lounge's touch-controlled technology. Eyecandy offers three different sound stations where DJs can play songs from personal Ipod playlists.
Ivan Kane's Forty Deuce
Ivan Kane's Forty Deuce is Mandalay Bay's hidden party locale. Keep your Mandalay experience full of seductive surprises during classic burlesque shows and events such as Silicone Sundays and Thursday night's Royal Jelly. Forty Deuce features live music, sensuous dancing and sassy lingerie costumes.