(page 3 of 3)
How to raise happy, successful kids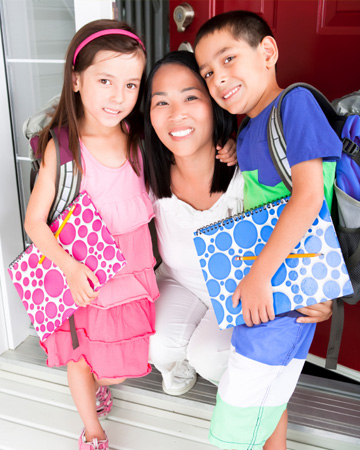 Back-to-school success
One of the most important aspects of parenting is ensuring that your child gets a good education. School is a place where your child not only learns skills like reading and writing, but also about friendship, responsibility and fairness. In short, school is a test-run for the real world, and your child needs your help to navigate this complicated arena.
If you fail to plan, then plan to fail. Harsh though that statement may be, it often happens that you'd experience more success at school if you'd take the time to plan ahead. If you know that your daughter is going to appear in a play during the month of May, which will require lots of rehearsals after school, don't enroll her in tap class and swimming until June.
When you know that time will be tight, it also makes sense to speak to your child's teacher to advise her of the situation and to get her help with scheduling homework. Always keep in mind what's coming up next week and what may be required due to the seasons. Getting to school in September may not be much of an issue, but what will you do when the snow falls?
10
Keep your eye on the prize
Being committed to managing the school year well takes effort. Keeping your family balanced despite all of the demands on everyone's time can be difficult. All of it can be managed better if you always stay focused on your purpose.
Your purpose as a parent is to raise well-adjusted children who can enter society and forge a good life on their own. They need a good education to do this. How to ensure your child receives the best education possible ought to be the first thing you think about in the morning and the thoughts you keep as you close your eyes at night.
Knowing that you've arranged your life around the essentials, despite how hectic life can be, will greatly enhance your sense of satisfaction. After all, as parents, it's rare that we receive kudos for a job well done, so we must learn to put first things first and then congratulate ourselves on our success.
More back -to-school tips
Green back-to-school tips for every age
Create a homework corner for your kids
How to make the first day of school easier on your kids (and you)