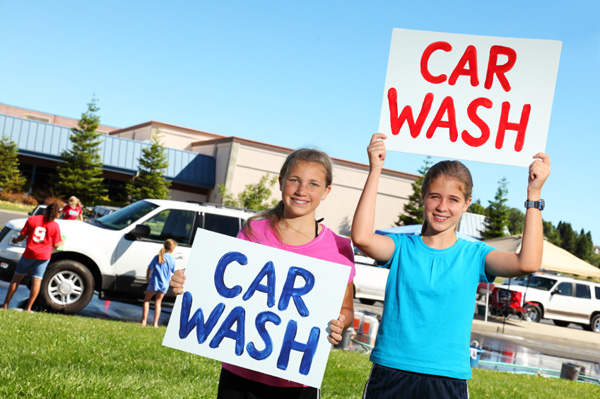 Young leaders: How to RAISE MONEY
Fundraising doesn't have to be only about bake sales or selling magazine subscriptions door-to-door. Here are some creative ways in which student council members can turn fundraising into a fun and successful experience.
Students join their school's student council to learn leadership skills, represent their fellow classmates and raise funds for service projects. Here are some fun ways the student in your life can raise funds for a project.
Everyone loves a carnival, and holding one is a perfect way to attract the entire community to your event. Charge admission or a small fee to play games or eat popcorn. Invite small businesses to set up tables as well, charging them a table fee.
Many students love to compete. Hold an arm-wrestling tournament, for example, inviting boys and girls to compete and charging them an entry fee. Or try a basketball tournament in which teachers play against students or in which teachers even play against teachers from a rival school.
Have a favorite coffee shop in town? Hold an open-mic night or a poetry-reading event, and see if the coffee shop will donate a portion of its receipts from the evening.
Before a school football game, hold a tailgate party in the parking lot. Sell food and drinks or charge for tickets to the tailgate party.
Hold a movie night and charge admission, inviting all students. Hold the movie viewing outdoors — in a football stadium or on the field, for example. For a little extra fun, if your school or community has a pool, try having the movie night at the pool and watch Jaws!
6
Restaurant percentage nights
Several restaurants, like Max & Erma's and Culver's, offer percentage nights where student groups or nonprofits take home a percentage of the restaurant's profits from the evening. Check with your local restaurants for more information about this opportunity.
Car washes are popular fundraising events, and you can draw more students to them by having teachers volunteer to wash cars that day.
During Valentine's Day, sell valentines for a set amount each and then deliver those valentines to the recipients.
If students are looking for a service project, organizations like Alex's Lemonade Stand can help provide direction. The foundation emerged after a 4-year-old wanted to run a lemonade stand to raise money to help find a cure for all children with cancer. On its website, the organization features several ideas to help students raise funds — including ideas on how to run a lemonade stand.
Sometimes, a little here and a little there can add up over time. Send jars around classrooms or set up a table in the lunchroom where students can donate any extra change they have. Use the change to improve something on the school's campus or to donate to another organization chosen by the students.
More on student activism
Get kids involved in student government
Vision boards for the school year
Kids vs. global warming: How teens are making a difference