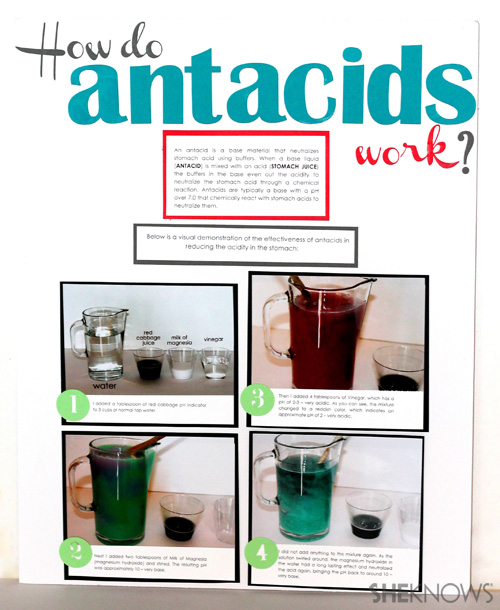 Prepare the kids for science-fair season
A hands-on experiment that visually demonstrates a chemical process can be both fun and exciting for the budding scientist. One such project illustrates the concept of pH changes in the stomach due to overproduction of stomach acid and ingestion of an antacid. It makes for a perfect science project for a child who's interested in how the body works.
This project is fun, quick, informative and simple. Follow the tips for creating a finished project your child can make with minimal assistance.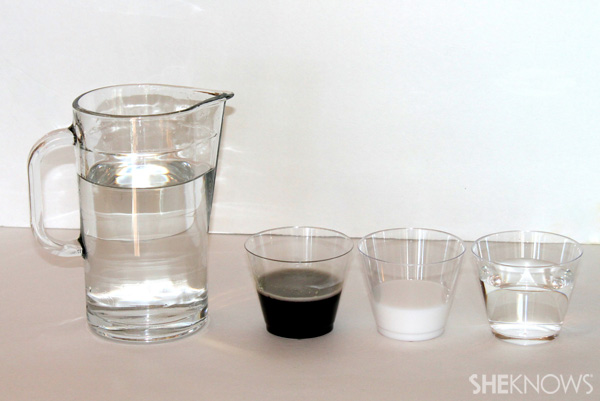 Supplies:
Large glass container
Tap water
Universal pH indicator (see end of article for how to make this out of red cabbage and water)
Milk of magnesia
Vinegar
Wooden spoon or stir stick
Lab glasses or other eye protection
Directions:
Note: Be sure to have the camera ready to take pictures of each step.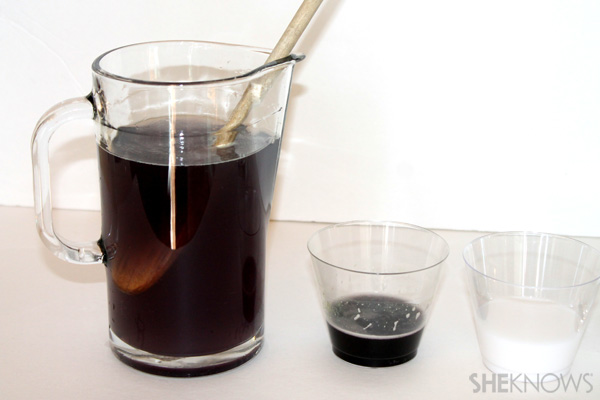 Pour 1 tablespoon of universal pH indicator into 3 cups of room-temperature tap water and stir.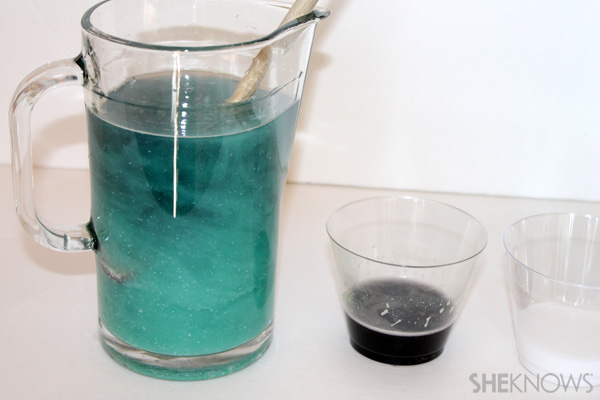 Add 2 tablespoons of the milk of magnesia and stir. The water will turn from reddish purple to green, which indicates that the pH is around 10 — or very base.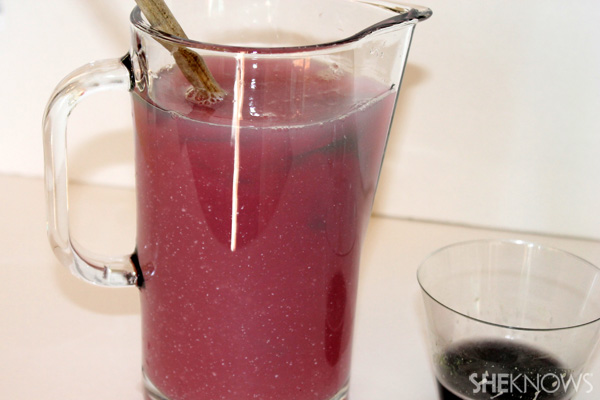 Add 4 tablespoons of white vinegar, which has a very acidic pH around 2-3, and stir. The mixture will change to a reddish color, which indicates a pH of 3.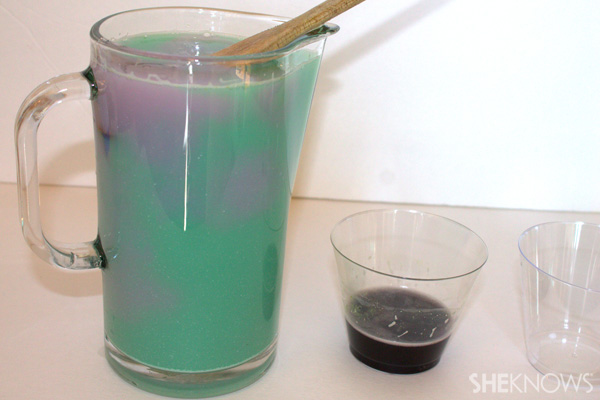 Do not add anything. Simply swirl the mixture around for about 10 seconds and watch it change back to a green color as the milk of magnesia neutralizes the acid and brings the pH back down to around 10.
Display board
Supplies:
4 x 6-inch photos of experiment, printed on photo paper at a lab or on a home printer
Elmer's 16 x 20-inch foam board
Elmer's Board Mate Extra Strength Glue Stick
Card stock in various colors
Sticker letters and numbers (optional)
Ruler
Directions:
Use a ruler and a piece of scrap paper and make a rough sketch of how you'd like the finished poster to look. Keep in mind how big you'd like your title to be, how much room you have for your project explanation and where the pictures are going to go.
Several options exist for creating the letters for the poster. The easiest method is to purchase letter stickers in various colors, shapes and sizes. To make your own custom lettering, create your words in a word processing program and print the words out directly onto the card stock. Make sure to edit your font to create just the outline of the letters, using a transparent fill. In Microsoft Word, this is easily done using Text Effects and choosing the transparent letter with a shadow. Once your letters are printed, carefully cut them out using a craft knife or scissors. When cutting out a cursive font, take care to ensure each word stays joined. That will make your assembly much easier.
Type and print out the text for your poster on card stock, trim away excess paper, and back it with a piece of card stock that's in a coordinating color and is an inch wider and taller.
Use the Elmer's Extra Strength Glue Stick to secure all of the elements to the board, taking care to glue down all corners to prevent them from curling up.
Red-cabbage universal pH indicator
Note: An adult should do this.
Supplies:
Red cabbage
Boiling water
Blender
Sieve
Glass bowl
Directions:
Chop up several red cabbage leaves and place them in a blender.
Top with 2-3 cups of near-boiling water.
Blend for approximately 30 seconds or until the liquid takes on a mushy consistency.
Pour the liquid out of the blender and through a fine sieve into a glass bowl. Let it cool completely before use.
More science fun
Teach your child to love science
Simple science to amaze your kids
How to make clouds