More Than
Minimum Wage
Interested in earning some extra money but not wanting to settle for minimum wage? Take a look at these high-paying part-time jobs.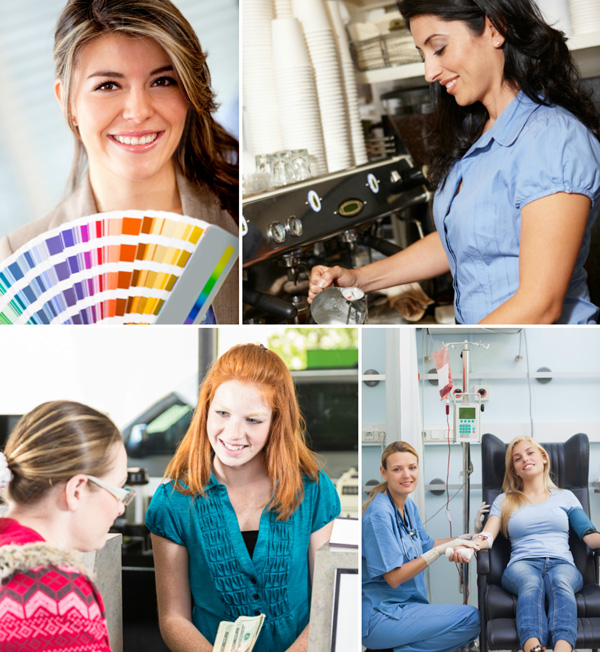 It's hard to get by on minimum wage, especially if you're only able to work part time. As a mom of two under two, I understand how important it is to maximize your time and get paid as much as you can in as little amount of time as possible. Here, we're sharing 25 part-time jobs that pay more than minimum wage.
Tutors can work in person or even online. Online tutors typically make less, but the job is more flexible since you can work from home. In-person tutors can charge $30 per hour or more.
School bus drivers typically work less than 20 hours per week and average more than $15 an hour.
Love booking vacations and helping others make their travel dreams come true? If so, consider working as a part-time travel agent. Most are paid on commission, but top earners can make well over $50,000 per year.
4
Server at a breakfast restaurant
At a busy breakfast restaurant, you'll average $20 an hour in tips, plus your hourly wage of $4 an hour (or more depending on where you live). Breakfast restaurants close mid-afternoon, allowing you plenty of time to spend with family.
Set your own hours, work in a salon or in the comfort of your own home, all while making an hourly rate of more than minimum wage (average is $10 nationwide) plus tips.
Secretaries don't just work full time in an office setting anymore. They can work from home, work part time or work as an assistant to a CEO. Pay can vary from $10 an hour to $25 an hour.
Mail carriers work 20 hours per week, on average, and make $19 an hour or more.
Though you'll need an associate's degree, you'll make an average of $32 an hour for this low-stress, in-demand part-time job.
Similar to a hair stylist, you can set your own hours, work at a makeup counter or specialize in events, such as weddings or anniversary parties.
10
Private fitness instructor
You can get your Pilates or yoga license and start teaching private lessons from the comfort of your own home. You can charge $20 per hour or more, depending on your experience and what your clients are willing to pay.
If you're the crafty type, sell your artwork on websites such as Etsy. Salary varies depending on how many sales you make, but the more you put into your small business, the more you'll get out of it.
Bank tellers start out around $12 an hour, on average. Other perks of the job include benefits, the option to work part time and the option to contribute to a retirement account.
Phlebotomists work in labs collecting blood samples from patients. A state license or certification is required, in addition to a high school diploma or GED. Average wage is $15 an hour.
A nanny is a great side job for a stay-at-home mom. You can work as little as one day per week or as much as five days per week, it's up to you. Hourly rates depend on how many kids you're watching and their ages, but it's always more than minimum wage.
Start getting your morning coffee for free by becoming a barista at your local coffee shop or Starbucks. Baristas make slightly more than minimum wage, plus tips.
Bartenders work evenings, nights and weekends. Hourly wage is low but tips are high, and you'll walk away with cash in hand after each shift, sometimes as much as $400.
Yes, you need a master's degree or higher, but being a clinical psychologist brings in $100 per hour or more, making it one of the highest-paying part-time jobs in the U.S.
Depending on the types of articles you write (length, subject matter, etc.) and the company you work for, you can charge up to $100 per hour. Keep in mind you must work up to this. Most freelancer writers start out making much less.
19
Freelance graphic designer
Maybe writing is not your thing but graphic design is. Freelance your work and make up to $50 an hour.
Get your creative juices flowing and work as an interior designer. Depending on your experience and types of clients, you may be able to make upward of $100 an hour.
A life coach helps others out with decisions involving careers or personal life. Like psychologists, they are one of the top part-time earners with most making more than $50,000 per year.
Sure, some accountants work long hours in an office, but others easily work from home and only work part time, or only work during tax season. Accounting makes for an incredibly stable job, pays well and is expected to grow faster than average.
Massage therapists make anywhere between $8 and $30 or more an hour depending on experience and whether or not they work for themselves or in a massage parlor.
Speech pathologists charge $60 per hour, but even the ones who work in schools can make $40 per hour or more.
You can specialize in injuries, sports medicine or children's development. On average, physical therapists make $60 an hour and work part time.
More on careers
8 Careers for women that used to be only for men
15 Reasons every woman is built for success
7 Women changing the way you use technology
---
The opinions expressed in this article are of the author and the author alone. They do not reflect the opinions of SheKnows, LLC or any of its affiliates and they have not been reviewed by an expert in a related field or any member of the SheKnows editorial staff for accuracy, balance or objectivity. Content and other information presented on the Site are not a substitute for professional advice, counseling, diagnosis, or treatment. Never delay or disregard seeking professional medical or mental health advice from your physician or other qualified health provider because of something you have read on SheKnows. SheKnows does not endorse any specific product, service or treatment.