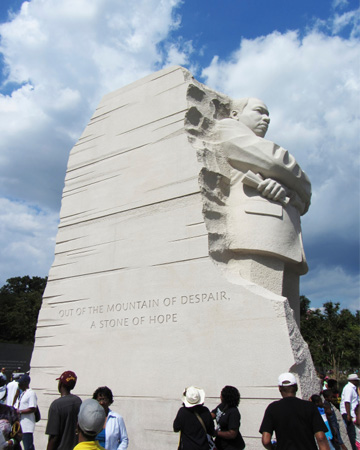 A day of service
Celebrate the iconic civil rights leader's 85th birthday at one of these five Martin Luther King Jr. Day events across the country.
Monday, Jan. 20 marks the 28th annual Martin Luther King Day, celebrating the 85th birthday of civil rights leader Martin Luther King Jr. Traditionally known as a day of service, Martin Luther King Day is observed on the third Monday in January as a federal holiday and is celebrated through parades, marches and volunteer activities in cities across the United States.
Here are five of the biggest MLK Day celebrations in the country.
1
Philadelphia, Pennsylvania
The Annual Greater Philadelphia Martin Luther King Jr. Day of Service is the largest MLK Day event in the country. Last year, more than 115,000 volunteers participated in 1,600 service projects, and they plan to beat those numbers this year. In addition to service projects, many of Philadelphia's sites and museums participate in the holiday through events and festivities. The African American Museum will offer free admission on Jan. 20 and host special events like live performances and readings. The Philadelphia Museum of Art will host a day-long Arts and Service Workshop, while the National Constitution Center will have a day-long celebration featuring special service projects, performances and $5 admission. And at The Franklin Institute, one of Dr. King's most famous speeches, "I Have a Dream," will be broadcast on the walls of Franklin Hall at the top of every hour.
In 1986, the City of San Antonio created the "San Antonio Martin Luther King Jr. Commission," a volunteer organization responsible for planning events for MLK Day, as well as other service projects and scholarship programs throughout the year. San Antonio doesn't just celebrate the life of Dr. King on one day, but instead hosts DreamWeek, a 12-day celebration of diversity and tolerance that consists of a series of keynote speeches, luncheons, mixers, events and celebrations. DreamWeek culminates with its signature event, the annual Martin Luther King Jr. March, which will be held this year on the morning of Jan. 20 and is expected to draw over 100,000 participants.
Dr. King and the city of Atlanta have deep ties, so it's no surprise that Atlanta would host one of the best MLK Day celebrations in the nation. The spiritual highlight of the celebration is the Martin Luther King Jr. Annual Commemorative Service at Ebenezer Baptist Church, where Dr. King was a pastor. The service features tributes from national and international leaders. The King Center hosts a kick-off reception for 10 days of events, a march and rally in the King Historic District and a Salute to Greatness awards dinner. In addition to these special events, guests to Atlanta can visit the King Historic District visitors center, the King Birth Home and the tomb of Dr. King and his wife, Coretta Scott King.
Denver hosts one of the most-unique MLK Day celebrations in the nation. In addition to the annual "marade" (march/parade) on Jan. 20 at the Dr. King memorial site in City Park, the Martin Luther King Jr. African-American Rodeo of Champions will take place on Jan. 21 at 6 p.m. The MLK Jr. African-American Heritage Rodeo aims to show how black cowboys and cowgirls impacted the West throughout history. The cowboys and cowgirls participate in events like bareback riding, tie-down roping, ladies' barrel racing and bull riding.
MLK Day is one of the best times to visit the Martin Luther King Jr. Memorial, which will host a wreath-laying service on Jan. 20 in observance of Dr. King's birthday. Major service events also take place across D.C., and you might even catch President Obama and his family participating in a service project. The annual Martin Luther King Jr. parade will also occur on the morning of Jan. 20, as well as the "Let Freedom Ring!" musical celebration that evening at the John F. Kennedy Center for the Performing Arts.
More holiday travel stories
A holiday travel guide to Gothenburg, Sweden
A travel guide to Plymouth, Massachusetts
Haunted hotels in the U.S.