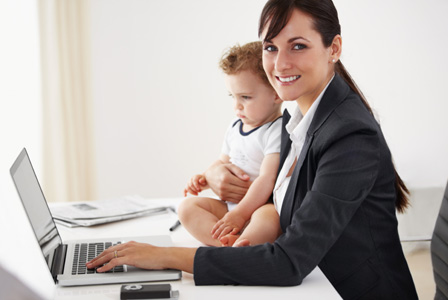 You're a mom, and you just so happen to work (whether that's a want or a need). Here are 15 super-flexible jobs for moms who don't want to work the traditional 9 to 5.
Best jobs for moms
My name is Sarah, and I'm a working mom. Originally, my plan was to stay home with my new baby, but when an opportunity to work came up, I couldn't resist. I've been at this whole working-mom thing for almost two years now, and while every day isn't a ray of sunshine, I wouldn't trade it for anything. As a freelancer, I get the benefits of setting my own schedule, staying home with my girls and contributing to my family's finances. Freelancing isn't the only flexible job, though. In fact, there are dozens. Here are 15 incredibly flexible jobs for moms who want, or need, to work.
Real estate agents set their own schedule but typically must be available on nights and weekends. This is ideal for women who have husbands who work 9 to 5 and do not want their children in day care. An appraiser determines the value of a property based on comparisons of similar homes and an evaluation of the property itself. Though both jobs require certifications, both are extremely flexible and offer competitive pay and benefits.
Accounting is all about the numbers; financial planning is more about the people. Help prepare people for their future by becoming a financial planner. You'll be the one providing options for your clients — including saving for college, planning for retirement, preparing for unexpected expenses and more. Financial planners need to be detail oriented and passionate about both people and money. Like accounting, you can work for yourself, work part time, freelance or work at a bank or other financial institution.
Have a passion for all things design and decor? If so, interior design may be for you. While education and training are preferred, they're not necessarily requirements. Build your base clientele through family, friends and cheap advertising (think Craigslist or posting flyers). Start with low rates, and once you start gaining clients, you can decide whether or not to charge more.
Ideally, you'll need to have at least a bachelor's degree in accounting but can always start out as an assistant to someone first. A career in accounting is one of the most-stable careers you can have — which is a top consideration for working moms. With accounting, you can work for yourself (for example, preparing clients' taxes), work for a company, freelance or work part time.
5
Hair dresser / Makeup artist
Since beauty likely won't ever disappear, there's always going to be a need for beauticians (hair dressers, makeup artists, aestheticians and more). Beauticians can work from home, work out of a salon, take time off when needed, set their own hours and work as much or as little as they'd like. They can also specialize in weddings or other formal events, which typically pay higher rates than strictly working out of a salon.
Maybe you're looking to get out of the house for a bit and earn some extra cash. If so, consider being a waitress or bartender. Both make money instantly in tips, and the pay is significantly higher than minimum wage. Also, most restaurants are always in need of weekend servers, so you can plan on being home with your family during the week and picking up shifts on the weekends.
There are all different types of nurses — from Certified Nursing Assistants (which require one semester-long course) to Registered Nurses (minimum two-year program) to Nurse Practitioners (the most-highly educated of those in nursing). Whichever type you choose, you can work in a hospital or in a doctor's office, in a nursing home or providing in-house care, day shifts or night shifts, and so on and so forth. The options and the flexibility are endless.
Maybe, as a mom, you just need to get out of the house for a few hours per week. Sometimes, a short break every now and then is just what we need to parent to the best of our abilities. If this is you, consider getting a part-time job in retail. You can work for a small candle shop, a jewelry counter in your favorite department store or at a local coffee shop, for example. Though the pay isn't necessarily the best, the flexibility and the time away from home may be priceless.
If working out is one of your top priorities, consider becoming a fitness instructor. You can teach as little as one class per week or become certified in a specialized field, such as Pilates, and teach private lessons along with group classes. Group instructors can average $20 per hour, and private instructors can charge significantly more per hour depending on credentials, location and types of clients.
Are you crafty and have a passion for baking, making jewelry, or blogging? Zone in on your talents, and open up your own small business out of the comfort of your own home. Etsy, for instance, lets you create your own little handmade shop on the worldwide web. You can also sell your services via a personal website, advertising and referrals.
Librarians can work in schools, libraries, museums, law firms, non-profit organizations and more. They're meticulous, detail oriented and extremely organized. Librarians can work either full or part time, and some even have the option to telecommute. Full-time librarians typically make more than $50,000 per year.
Teachers have the exact same schedule as their kids. Need we say more? You'll have all the same holidays, breaks and half days that your kids have. For an even more flexible schedule, consider becoming a substitute teacher. Click here for requirements by state.
Median salary for dental hygienists is nearly $70,000 per year, and most work part time. You will need an associate's degree in dental hygiene, at a minimum. Though you can't expect to "move up" in this field, flexibility is high and job satisfaction is average.
If you're at home with your own kids all day (and love it), consider being a nanny for someone else's kids or starting your own at-home day care. Both options allow you to stay with your own children and bring in some additional income as well.
Freelancing goes beyond writing or editing, which are what most people think of when they hear the word "freelance." Freelancing is simply working for a company without a long-term commitment. Basically, you work as an independent contractor, usually from the comfort of your own home. You may work as a secretary, be hired on temporarily to complete a project, assist in grant writing or bookkeeping, and more. While it isn't the most stable of jobs, it is one of the most flexible, and top freelancers earn well over $100,000 per year.
More on working moms
4 Stress-less tips for working moms
A single mom does things her way
I like dropping my kid off at day care
---
The opinions expressed in this article are of the author and the author alone. They do not reflect the opinions of SheKnows, LLC or any of its affiliates and they have not been reviewed by an expert in a related field or any member of the SheKnows editorial staff for accuracy, balance or objectivity. Content and other information presented on the Site are not a substitute for professional advice, counseling, diagnosis, or treatment. Never delay or disregard seeking professional medical or mental health advice from your physician or other qualified health provider because of something you have read on SheKnows. SheKnows does not endorse any specific product, service or treatment.