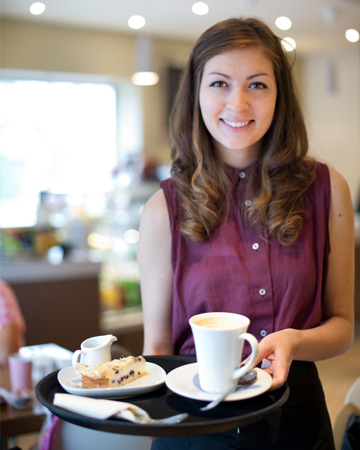 Realistic part-time jobs
In college, your studies are your main focus, but the bills still need to be paid, right? Check out these flexible part-time jobs to take on while in school.
When I was in college, I worked at coffee shops (off campus). The hours were great — the coffee shops opened early and closed late, meaning I could easily work around my school schedule. In my last year of college, I decided to work at the coffee shop on campus.
That was probably the best decision I had ever made (at the time). Not only could I work around my school schedule, I could also take any number of days off, as needed. Getting weekends off was never a problem if I wanted to go home, and the pay wasn't too shabby, either.
In addition to jobs on campus, here are 10 others you may want to consider if you're in college.
Servers tend to make significantly more than minimum wage, and you can somewhat dictate your own schedule. Morning person? Work at a breakfast restaurant. Night owl? A dinner restaurant or bar is for you. Since tips are instant, you don't have to wait two weeks to receive a paycheck, which is nice for college students short on cash.
If you've already picked your major, consider getting an internship in your field. Companies are always looking to hire college students — whether still in school or newly graduated. They understand you won't be able to work full time and are typically very understanding if you need extra time off to study.
If you love working with kids, being a part-time nanny or babysitter is for you. Pay is above average, and you'll most likely be able to squeeze in some study time, especially if you babysit kids at night.
You can tutor college students that are a year or so behind you, tutor younger kids or tutor kids online. By tutoring kids online, you have the flexibility of both working from home and creating your own schedule. For more information, click here.
5
Independent sales consultant
Are you a huge fan of Scentsy candles, Avon beauty products or Arbonne makeup? Become an independent sales consultant by selling your favorite products to family and friends. The more time you have to devote to this side job, the more money you can make. Also, who doesn't love an excuse to throw a party with friends?
6
Dog sitter /
house sitter
Dog sitting and house sitting are easy, and people are willing to pay good money for someone they trust (think $100 per day or more). Start by letting family and friends know that you're willing, posting flyers on mailboxes and in grocery stores and asking for referrals. Once you have an established clientele, you should be kept pretty busy (and if not, you can always keep advertising).
Though working in retail isn't the most glamorous of jobs, it does pay the bills. The main requirement is to be available — evenings, weekends and possibly holidays. You may have to give up some social time, but working in retail shouldn't affect your school schedule or studying too much. If you're majoring in marketing, a retail job scores even more points.
With more and more companies freelancing their work out, the job opportunities are endless. Whether you love writing, graphic design, consulting, customer service, editing, tech or general admin, there's a freelance job out there for you. The downsides are it can take a lot of hours to find a job you like and the work may not be as consistent or steady as you need.
If you regularly attend the gym and fitness classes, you may as well be the instructor and get paid to work out and help get others in shape. If this ends up being something you enjoy, consider teaching private lessons, which pay almost double per hour than larger classes do.
Do you live in the dorms? If so, why not become a resident assistant (or RA)? Typically, you'll get free room and board (or at least a generous discount) along with an hourly wage. The hours are great, you get your own room and there's no commute. The only disadvantages are having to deal with late nights and sticky situations every now and again. But hey, realistically you'd be dealing with these anyway simply by living in the dorms.
More on careers
The Alpha Woman: Secrets of strong, successful women
One working mom, taking it one day at a time
10 CEOs you'd love to work for
---
The opinions expressed in this article are of the author and the author alone. They do not reflect the opinions of SheKnows, LLC or any of its affiliates and they have not been reviewed by an expert in a related field or any member of the SheKnows editorial staff for accuracy, balance or objectivity. Content and other information presented on the Site are not a substitute for professional advice, counseling, diagnosis, or treatment. Never delay or disregard seeking professional medical or mental health advice from your physician or other qualified health provider because of something you have read on SheKnows. SheKnows does not endorse any specific product, service or treatment.