Eaten By A Shark Vs. Winning The Lotto?
Do you ever wonder how likely you are to be struck by lightning? We did, too. So we did a little research to get the beat on the odds.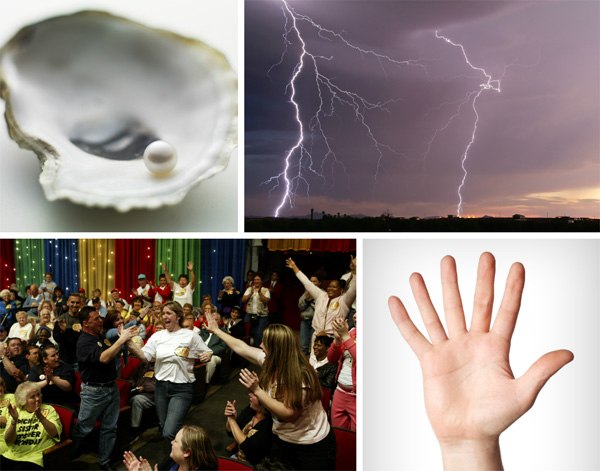 Before you dive in, you should know that a number of factors affect the real odds of something, most especially your specific behavior. A surfer has a greater likelihood of being attacked by a shark than someone who never goes into the water. That being said, we rounded up some interesting general stats.
1
Odds of being diagnosed with cancer — 1 in 2
Turns out, cancer is only something that happens to someone else for 50 percent of us.
2
Odds of being a victim of a serious crime — 1 in 20
Serious crimes include things like murder, assault, robbery and rape.
3
Odds of being called to "Come on down!" on The Price is Right — 1 in 36
Given the stats on becoming a billionaire or winning the lotto, which we cover later, this is pretty good news.
4
Odds of being audited by the IRS — 1 in 175
We wish this one would switch places with some others on the list. As Charlie Brown would say, "good grief!"
5
Odds of being arrested while drunk driving — 1 in 200
With a designated driver, your chances are zero! Way better odds.
6
Odds of being born with 11 fingers or toes — 1 in 500
This means that if you follow 1,000 people on Twitter, one or two of them were probably born with an extra appendage.
7
Odds of dying from an injury in the next year — 1 in 1,820
We tend to think of injuries as minor, but they can be deadly.
8
Odds of dying in a car accident — Between 1 in 4,000 and 1 in 8,000
If you text while driving, you increase you chances by six times — the same as driving after four beers.
9
Odds of winning an Oscar — 1 in 11,500
Keep in mind, though, your odds are zero if you aren't in the industry.
10
Odds of finding a pearl in an oyster — 1 in 12,000
Given how hard it is to shuck an oyster, we hardly think it's worth it.
11
Odds of becoming a professional athlete — 1 in 22,000
We were hoping for the odds of marrying a pro athlete, but this will do.
12
Odds of going blind after laser eye surgery — 1 in 85,714
From our research, it seems this stat must be related to legal blindness, rather than total blindness, but consider whether it's worth the risk.
13
Odds of dating a supermodel — 1 in 88,000
We'd venture a guess that these stats don't hold up when Leo DiCaprio is your competition. On the bright side, someone finally managed to take Adam Levine out of the equation.
14
Odds of dying in an airplane crash — 1 in 354,319
Not too bad as compared to cars... or bikes, on which you have a 1 in 4,147 chance of dying.
15
Odds of getting killed by fireworks — 1 in 616,488
About 66 percent of those occur on the Fourth of July.
16
Odds of being struck by lightning — 1 in 700,000
Just keep in mind that most people who are "struck" by lightning actually get hit from electricity traveling underground after the strike, so wear rubber-soled shoes and remember to crouch with your feet close together if a strike is possible.
17
Odds of becoming a billionaire — 1 in 7,000,000
Just keep in mind that some of the stats below show you how unlikely it is to become one by accident.
18
Odds of becoming President of the U.S. — 1 in 10,000,000
Considering the president is only elected every four years and may serve two terms, those ain't bad odds.
19
Odds of getting attacked by a shark — 1 in 11,500,000 (that's five a year)
Not even close to the animal that kills the most people per year.
Cows — 22
Ants — 30 
Jellyfish — 40 
Deer — 130 
Hippos — 2,900 
Humans — 16,260 
Shark Week will never be the same.
20
Odds of winning $1,000 in the McDonald's Monopoly game — 1 in 36,950,005
You're better off betting a financial-savvy-challenged friend a grand on a real game.
21
Odds of winning the Mega Millions lottery — 1 in 135,145,920
At least you can still be president, right?
More fun facts
20 Interesting sex facts
10 Shocking fast food facts
The CMAs are cooler than you think: CMA fun facts
Photo credit (The Price is Right): Getty Images