Embrace Your Youth!
There's something downright American about loading up the car and piling in with your friends for a memorable road trip. Embrace the freedom of the road and your youth by checking out one of these 20 road trips to take during your 20s.
(page 2 of 2)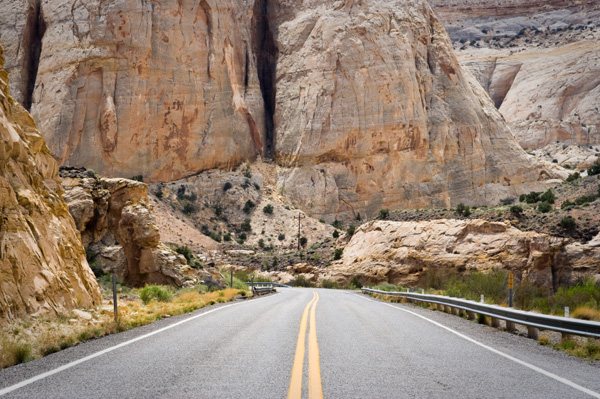 Capitol Reef National Park and Bryce Canyon National Park are connected by Utah Highway 24. Just 120 miles lie between the two national parks, so don't hesitate to make the trek for a fun excursion through rock formations and wild landscape.
12
Lower Red Rock Loop Road
Arizona isn't a flat and boring desert — it's a desert full of rock formations, unique wildlife and stunning skies. Take the Lower Red Rock Loop Road through Arizona to see what adventures await you in the desert.
We've already mentioned the Pacific Coast Highway, but the Big Sur Highway on the Pacific Coast route is particularly worth seeing. It offers a wild view of California, and it's perfect for a romantic getaway.
Louisiana is rich in unique culture, and the Great River Road will allow you to see Cajun country up close and personal. You'll see historic plantations and swamplands, and you'll even be able to make a stop in New Orleans.
Start your trip in the funky Texas city of Austin for a laid-back and friendly entry point, then head south to the Devil's Backbone for stunning views of the Texas Hill Country. Bonus idea: Time your visit for the spring, when Texas bluebonnets fill the roadside fields.
Make the trip up I-287 from New York City to see historic New York State, including wineries, fine dining, mountains and rivers. It'll be a welcome change of pace from the city that never sleeps.
17
Highway 118 to Big Bend
There's no doubt about it: Making your way to Big Bend in Texas isn't an easy endeavor. But once you get there, you'll see a breathtaking and largely untouched desert that will leave you speechless. Take Texas State Highway 118 from Alpine to make it to the park.
18
Columbia River Highway
The Columbia River Gorge in Oregon boasts the picturesque Multnomah Falls, the Columbia River and innumerable vistas and hills for hiking. Your eyes won't know what hit them.
If you're in Rocky Mountain National Park, you must take Trail Ridge Road for a trip through the heart of the park. The Rocky Mountains will surround you with plenty of views.
You'll have the opportunity to enjoy memorable art and fine dining in Santa Fe prior to heading north on U.S. Highway 285 to Taos for an outdoorsy adventure this winter.
Tell Us
Where do you want to go before you turn 30? Tell us in the comments section below!
More travel tips
Best mountain lodges in the U.S.
How to overcome travel fear
Top 4 hotels in Palawan for honeymooners