Whether it's where to sleep, what to do and what not to miss, we have the inside scoop on visiting Dalat — and why you should.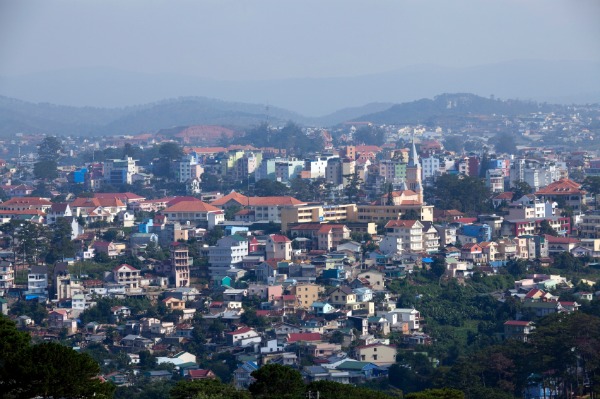 Why you should go
Add a dash of French-inspired architecture and a pinch of the Swiss Alps to Vietnam and you get Dalat, a quiet yet alluring town in the south-central highlands of Vietnam. It's a popular destination for locals and tourists alike, and the cooler climate, great food, opportunities to hike, enjoy other outdoor pursuits and the abundance of things to see and do make it an ideal vacation spot for any type of traveler.
Stay
Thien An Hotel charmed us instantly. The quiet, helpful owner can direct you anywhere in Dalat and answer any questions about the area. He can also help you book travel with Dalat as the starting point. The rooms are clean and come with a mini bar, lots of storage space and free Wi-Fi. The price (around $25) also includes a hearty breakfast of eggs, fresh fruit, bread, cheese, meats, juice and coffee. The hotel is within walking distance to most of what we wanted to see and also has an abundance of common space for anyone who wants to relax outside of their room. Computers are also available for guest use in the lobby area.
Eat and drink
Despite the mouthful of a name, the elegant yet relaxed News and New Art Café is a great spot to linger over a glass of Dalat wine (a glass will set you back the equivalent of about $1). Low lighting and art-covered walls made us feel right at home. The café's owner is responsible for the pieces adorning the walls and if he's in, he'll give you a mini demonstration of his technique — you'll likely even go home with a painting of your own, free of charge. The affable artist is just happy to share his work and enjoys chatting with customer.
One of the first meals we had in Dalat was at small, friendly Trong Dong. The narrow space with mirror-lined walls has a menu with both Vietnamese and Western dishes, and some of the best veggie spring rolls we've ever had (we went back another night just to have seconds). Service is friendly and the food is fresh, flavorful and reasonably priced.
The upper level of the Central Market is a bustling, chaotic food court of sorts and offers an enticing array of cheap and tasty dishes. We made ourselves at home at one of the two vegetarian stalls; we put ourselves in the capable hands of the stall owner and her mother, and were treated to plates piled high with vegetarian versions of popular dishes made with mock meat. It's not to everyone's taste but it was nice to try some of the items we'd otherwise be unable to sample.
Quick tip: Street food is prevalent in Dalat and definitely something to try while you're there. We loved the rice-paper crepes, grilled over hot coals and filled with an egg, fresh herbs and a spicy sauce, but there's a wide range of options, especially in the evenings around the market.
See and do
As long as you're not afraid of heights, we recommend taking a cable car ride over the gorgeous Dalat countryside. You get a car to yourself to enjoy the views of the pine forest, rivers and rolling green hills below. The ride ends at Truc Lam Pagoda (you can also buy round-trip tickets), the largest institute of meditation in Vietnam. You can wander the grounds of the pagoda, which are landscaped with colorful gardens — a peaceful break from hectic sightseeing if you need it.
A visit to Hang Nga guesthouse, also known as the "Crazy House," is a must — you've likely never seen anything like it. Designed by Vietnamese architect Dang Viet Nga, the ongoing work in progress is part guesthouse, part fantasyland and part surreal art piece. Winding staircases lead to little nooks and crannies to explore, bridges connect oddly shaped rooms, all quirkily decorated and completely fantastical. We didn't spend the night, but wish we had.
Enjoy the fresh air with a walk around Xuan Huong Lake, a manmade lake in the center of town where you can also rent swan-shaped pedal boats if you don't feel like walking. We took a leisurely stroll around the lake and enjoyed some street food along the way, including grilled corn and rice paper crepes.
Next up
Pack your bags and join us next time, when Frequent Flier heads to San Juan, Puerto Rico.
More travel tips and ideas
Frequent Flier: Hiking Malaysia's Cameron Highlands
Travel trends for Asia
 5 Locations for pre-season skiing