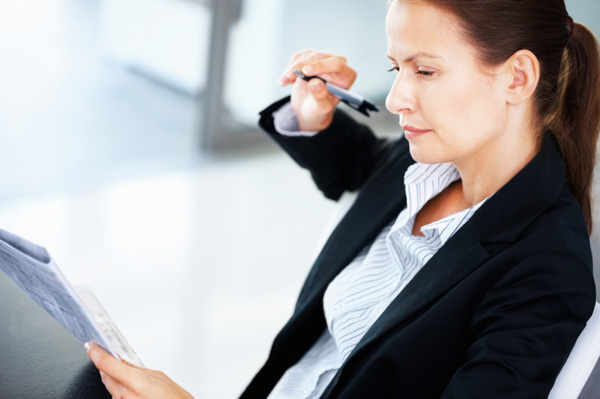 Wait to seal the deal
Mercury, the planet of sales and communications, turns retrograde in the sign of Scorpio on Oct. 21. It's never advisable to buy, sell or speculate while this planet is moving backward in the sky. That's because Mercury goes from being the planet of shopkeepers to being the planet of shoplifters during this time. The retrograde lasts until Nov. 10, so avoid making any big purchases, promises and pledges if you can. Those of you who are already engaged in a business transaction should add two weeks to your expected deadline. That will help you deal with any unforeseen delays or last-minute wrinkles that are bound to arise.

ARIES (March 20 - April 18)
You'll be practicing some very delicate damage control from Oct. 21 through Oct. 29. You were under the impression that you were free to take on outside work, but an employer or client doesn't appear to be on board with that. Technically speaking, he doesn't have a leg to stand on, but that won't stop him from freezing you out of future assignments. Don't get defensive — do what you can to mollify him instead. Making him feel like he always comes first will do a lot to smooth ruffled feathers.

TAURUS (April 19 - May 19)
Don't be discouraged if you don't hear back from a potential employer or buyer right away. Mercury retrograde in Scorpio is bound to have sprinkled a few flies in the ointment, so it's a safe bet that this person is occupied with matters that have nothing to do with you. Even if he told you to call back, it would be advisable to wait until after Mercury comes out of retrograde on Nov. 10. The longer it takes him to get back in touch with you, the better your chances for success.
---

GEMINI (May 20 - June 19)
Life at work will become decidedly more complicated as you will be forced to shoulder bigger burdens and heavier responsibilities without any additional compensation. Loved ones and friends will advise you to say no. They're tired of seeing you exploited. However, you are in a career-building phase and can't afford to turn down any opportunities to advance or make a favorable impression. So will the sacrifices you make now pay off in the end? The answer is yes, although you might not see anything substantial before February or March of 2014.

CANCER (June 20 - July 21)
It's important to have a vision. Otherwise, you'll just be doing the same old same old at work. The downside to having a vision, however, is that you can feel like you're on a wild goose chase. Try to avoid getting stressed out about the particulars of how you are going to get "there" from "here" while Mercury is retrograde. Ironically, everything you need to achieve your aims (contacts, resources etc.) is in reach, but you won't begin to recognize this until after Nov. 10.
---

LEO (July 22 - Aug. 21)
It's hard to feel optimistic when you are locking horns with so many critics, faultfinders and naysayers, but if there were ever a time to stick to your guns, it's now. The simple truth is that you're on your way to becoming a huge success, and that's why you're dealing with so much pushback. Opponents realize that they are fighting a losing battle. Once the tide turns (around Oct. 29), you will see your savvier opponents stop deriding you and start celebrating you.

VIRGO (Aug. 22 - Sept. 21)
Your Ruling Planet Mercury will be retrograde from Oct. 21 to Nov. 10. This will play havoc with your normal, day-to-day business operations. That's because Mercury messes with your head when it's traveling backward. Things that used to come easily will frustrate and bedevil you. It's like adding up a column of numbers and winding up with a different answer every time. The trick to getting through this period is to retrace your steps. Not only will you find your answer, but you could happen upon a better way of doing things.
---

LIBRA (Sept. 22 - Oct. 21)
You'll receive all kinds of conflicting advice this week, so it will pay to listen to your gut. Thankfully, you were born under a shrewd and clever sign. If you don't think of yourself as having a head for numbers, then at least you know people who do. A potential concern is that you could be advised to play it safe and fold your cards early in a negotiation. Don't take that advice — you're holding a stronger hand than you know, and you will benefit greatly by letting developments unfold on their own.

SCORPIO (Oct. 22 - Nov. 20)
You will need to be extremely careful about what you say and to whom you say it while Mercury is retrograde in your zodiac sign. Mercury is the planet of communication, but it becomes the planet of miscommunication when it is traveling backward (Oct. 21 to Nov. 10). This means more than just you fumbling to find the right words for things. The things you say will be taken out of context, and if they can be distorted to suit a competitor's agenda, then they will be. The same goes for emails, voice mails, tweets and texts.
---

SAGITTARIUS (Nov. 21 - Dec. 20)
Dot every "i" and cross every "t" for the next three weeks, because if someone can rake you over the coals for a careless mistake, they will. Mercury is particularly exacting when it's in Scorpio — even more so when it's in close proximity to Saturn. But there's more going on than being grilled by fastidious types. Making certain that your paperwork is watertight will also protect you from co-workers who are looking to pin the blame for their sloppiness on someone else. This will become abundantly clear on Oct. 29.

CAPRICORN (Dec. 21 - Jan. 18)
You are so overwhelmed by the sheer volume of pressing commitments that it's impossible to see straight. What makes it worse is that you are investing too much time and energy in matters that aren't important. Your need to appease the squeaky wheels at work shows that they are getting far more grease than they deserve. Let the Universe help. News of a stalled business agreement or a disgruntled client threatening to leave on Oct. 22 could give you the out you've been looking for by nixing something you couldn't nix yourself.
---

AQUARIUS (Jan. 19 - Feb. 17)
You pride yourself on your reputation, so you won't be too pleased to learn that it's being called into question this week. The fault doesn't lie with you but with someone else. Most people wouldn't hesitate to throw the guilty co-worker under the bus — especially if she's to blame — but that's not your style. You believe that a department should be held accountable for everyone's actions, which is why you will step forward to take responsibility for your part. Just make sure that everyone else does the same on Oct. 29.

PISCES (Feb. 18 - March 19)
You're a lover, not a fighter — but you may have to rethink that at work for the next few weeks. Somehow, rivals got the impression that you can be duped into signing on for all kinds of thankless projects, ill-conceived ventures and extra hours for no pay. The best way to fight people who assume that you're dumb is to play dumb. Be patient and they will surely overplay their hand — thus giving you an opportunity to turn the tables on them. They thought they were clever, but they were really too clever by half.
More horoscopes
Weekly horoscope
Your weekly love horoscope
Your annual love horoscope for 2013
---
The opinions expressed in this article are of the author and the author alone. They do not reflect the opinions of SheKnows, LLC or any of its affiliates and they have not been reviewed by an expert in a related field or any member of the SheKnows editorial staff for accuracy, balance or objectivity. Content and other information presented on the Site are not a substitute for professional advice, counseling, diagnosis, or treatment. Never delay or disregard seeking professional medical or mental health advice from your physician or other qualified health provider because of something you have read on SheKnows. SheKnows does not endorse any specific product, service or treatment.