Why you should go
If you like to hike, the Cameron Highlands make an ideal stop if you're in Malaysia. Trails range from quick 30- to 45-minute loops with no guide required to strenuous uphill climbs through the jungle (go with a guide for these). Not to mention the climate here is much cooler than in most of Southeast Asia, so if you've battling humidity for weeks, a break from the relentless heat can be found here (you'll need a sweater and long pants for evenings). And then there's the scenery. Look around and you're faced with a gorgeous expanse of green — tea plantations and jungle surround you, and it's a sight that makes you want to get moving and start exploring immediately.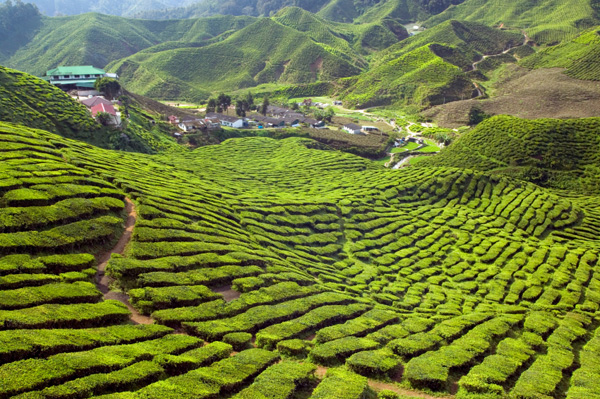 Where to base yourself
Quick tip: Warm up on cool afternoons with a cup of tea tarik (pulled tea), a comforting specialty in Malaysia and especially tasty in Tana Ratah before or after a hike. The sweet, milky concoction can be found at many of the cafes and restaurants along Jalan Besar.
The best place to base yourself if you're interested in doing some hiking in the Cameron Highlands is the tiny town of Tanah Rata. About a four-hour bus ride from Malaysia's capital, Kuala Lumpur, be prepared for some twisty, narrow roads for the majority of the trip. Tanah Rata itself is quaint and mostly geared toward the travelers who come through to hike and visit the tea plantations in the area. There's no need for a map — everything you need is on one main strip known as Jalan Besar ("the big road"). Here you'll find a string of Indian restaurants (delicious and cheap), shops and souvenir stalls, cafes and some budget accommodation options. Many trailheads actually start right in town, making it the most convenient spot if your goal is to hike.
Visiting tea plantations is another reason to drop by Tana Ratah. You can visit on your own for free or hire a guide. Many plantations also offer tours if you're interested in learning more about how your favorite cuppa is transformed from the leaf to your mug.
Where to stay
We felt instantly at home at ultra-friendly Gerard's Place, a guesthouse that has earned the No. 1 one spot on Trip Advisor, as of this writing. A series of clean, comfortable guestrooms surround a common living room and kitchen area. Tea, toast and coffee are provided and available for guest use all day, Wi-Fi is free, and there are two computers for guest use. Proprietor Jane has a wealth of information on the area and can easily help you choose the best hikes for your interest and skill level. She's also known to bring boxes of treats for guests, who can help themselves while drinking a cup of tea. This is also a great place to meet other travelers, thanks to the cozy common areas.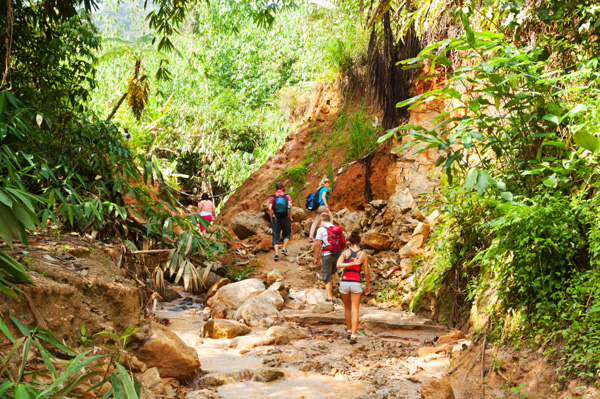 Get hiking
Whether you want to be challenged or just want to take in the stunning surroundings, there's a route to keep every visitor happy. Buy a map in town and decide what type of trails you want to tackle. The Cameron Highlands are a maze of jungle trails, some better maintained than others, but all offering unforgettable scenery and a chance to explore another side of Malaysia. Though most of the trailheads begin in the town of Tanah Rata, some can be a challenge to locate, so be patient and ask around. We ended up getting slightly turned around on more than one occasion but managed to find our way after a few false starts.
Hikes are numbered on your trail map one through 14, and some merge, so you can combine various trails depending on the type of hike you're hoping to do. Trails four, five and nine are the easiest and shouldn't require a guide. It's up to you to hire a guide (ask for reputable options at your guesthouse or wherever you're staying) but some of the tougher trails aren't as well marked as they could be. No matter which trails you choose, you'll be guaranteed stunning scenery, cool, crisp air and some quality time in the jungle.
Up next
Pack your bags and join us next time, when Frequent Flier heads to the charming town of Dalat in Vietnam.
More travel tips and trends
Best European cities for foodies
Checking In: Adventure travels
10 Best sunsets in America