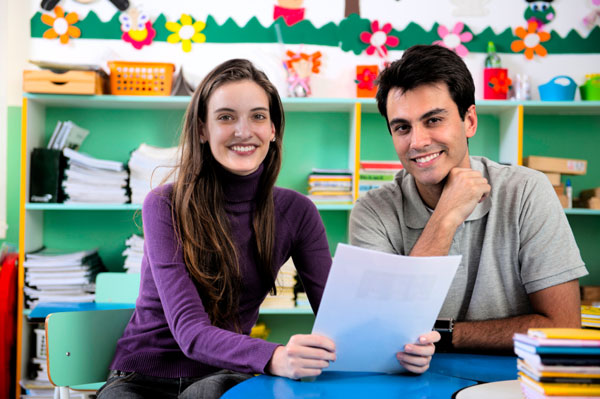 Questions for a parent-teacher partnership
As the student-to-teacher ratio continues to increase, it is important for parents to contact and meet with their child's teacher. During your meeting, be sure to ask direct questions. Children benefit when their parents and teachers are on the same page and communicating well.
The need to be direct
Teachers have their hands and classrooms full. While they have good intentions about keeping a class website and sending a weekly newsletter, there are only so many hours in a day. To help them out and to ensure your child is receiving the instruction and attention she needs, be willing to partner with your child's teacher, ask direct questions and follow through on the responses you receive. You will be surprised at how much you will learn by going deeper than simply asking how your child is doing in class.
Academics
Since the primary role of the teacher is to educate, start by asking questions concerning your child's academics. When asking about academic strengths and weaknesses, you are not looking for your child's current grade in that class — and you should not be satisfied if the response you receive is a mere progress report — you are wanting to know if his teacher believes he is understanding and mastering the taught concepts and skills. The hard reality is that grades are not always an indicator of what your child is actually learning.
Classroom expectations
It is always wise to understand the school's policies and procedures, as well as the teacher's specific expectations for her classroom. Ask questions that will give insight into the type of structure the teacher expects in the room, e.g., silence and independent work are the preference, or conversation and collaboration are embraced. Furthermore, ask the teacher to clarify how she sends home absent work, facilitates classroom management, collects assignments and communicates with parents. Knowing her procedures helps you teach and equip your child with the appropriate way to handle various situations in the classroom.
Behavior
Teachers have the opportunity to observe your child on a daily basis and in unique settings. To help you gain insight into your child's daily behavior, ask the teacher how he is behaving in academic classes, elective classes and "free" time — lunch and recess. You can determine a lot about your child's interests, peer acceptance and character if he expresses a clear change in behavior between different settings.
Character
Students learn just as much from each other as they do from you and their teacher. To ensure the values you have taught and want to instill in your child are being lived out, ask her teacher about her character. Find out how she treats others, what her work ethic is and how she manages her time. While grades cannot be ignored, some of the most important lessons for your child to learn are integrity, dedication and time management. Do not forget to follow up on what really matters.
The best students are those who have the support of their parents and teachers. Set your child up for success and ask these direct questions to begin a partnership with his teacher.
More on education
Time management skills
Place to study
Teachers weigh in: What elementary school kids should know