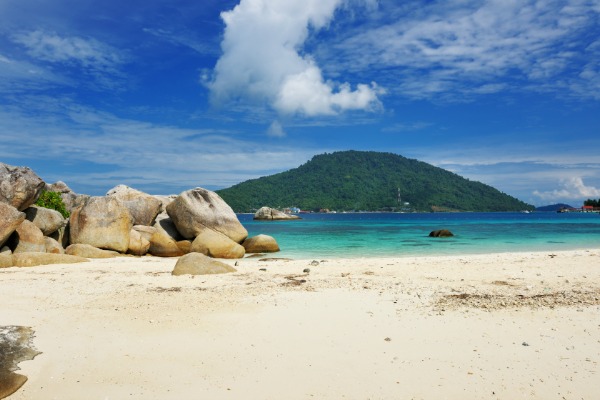 Why you should go
If you're looking for an exotic escape and a chance to get your fill of island life, we have the perfect spot for you. Powdery white sand, aquamarine water so clear you don't need a mask to spot colorful sea life and a backdrop of bright green jungle make Malaysia's Perhentian Islands a getaway you won't soon forget. Spot sea turtles on a snorkel trip, go diving, lie on the beach or while the day away in a hammock outside your beachfront cabin — whatever you do you're guaranteed to have a great time. We did!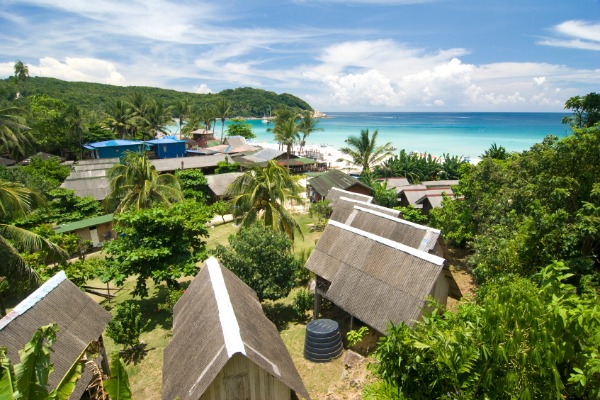 Where to stay
The Perhentian Islands are divided into two main islands, and there are accommodations on both. Kecil is the smaller of the two and offers a more rustic, backpacker vibe, while Besar is larger and offers more choice in terms of accommodation. There is a good mix here of cheaper, rustic cabins and more upscale properties. While Kecil caters more to a younger crowd, you'll find more couples and families on Besar.
Where you stay comes down to the experience you're looking for, what you want to pay and the standard of accommodations you're looking for. If where you sleep doesn't matter (i.e., you don't need anything other than a bed and a bathroom), you can get away with spending less for a basic room. We stayed at Mama's Chalet on Besar, which offers small, basic cabins with small verandas close to the beach. It was rustic but a step above roughing it. Two higher-end options on Besar include Tuna Bay Island Resort and Perhentian Island Resort, which boasts a gorgeous stretch of beach (accessible to everyone).
What to do
Most people come to the Perhentians to dive and snorkel in the crystal-clear water. You can book dive trips through one of the many dive operators on both Kecil and Besar. Non-divers can revel in the underwater beauty right off the beach with a mask and fins that can be rented from most guest houses. Snorkel trips further afield can also be arranged and run daily as long as the water isn't too rough. Ask at any guest house or dive shop and you'll be able to book on the spot for the next available trip. No matter who you book with or whether you simply snorkel off the beach, you're sure to see an abundance of stunning sea life
There is little else to do on the islands other than swim, lie on the beach or swing in a hammock, which suited us just fine. You also won't find much (if any) internet connections here, so it's the perfect spot for a digital detox (whether you want to give up email for a few days or not).
Make a note: The islands basically shut down during low season and waters can be extra-rough, so aim to go between mid-March and August.
Getting there
Take a short flight from Kuala Lumpur to Kota Bharu (Air Asia offers several flights daily), and then catch a taxi to the small town of Kuala Besut. From there, ferries run regularly. Buy your tickets upon arrival and you'll be put on the next ferry available (we had just missed one but had to wait less than two hours for the next one). Keep your ticket — it's good for the return journey. The trip itself can be quite choppy, so brace yourself for some ups and downs (those who get seasick, take note). It's also a good idea to waterproof your electronics since you might get wet. Tell the driver where you're staying and you'll be dropped off on the closest beach to your hotel or guest house. Though it might sound like a trek, as soon as you get a look at that icing-sugar white sand and ultra-blue water, you'll know the journey was worth it.
Next up
Pack your bags and join us next time, when Frequent Flier heads to Guatemala to explore the Mayan site of Tikal.
More travel tips and ideas
Top affordable vacation destinations
Educational destinations
10 Great things to do in Toronto