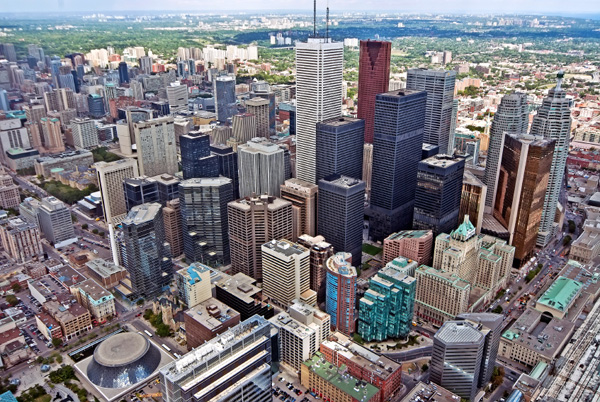 1
Explore Kensington Market
Toronto's eclectic Kensington Market is a colorful mix of cafes, restaurants, grocers, quirky shops, bars, bakeries and specialty food stores, and makes for an excellent way to spend an afternoon. The tangle of narrow streets and alleys will always lead you to something interesting, be it a great cup of coffee, sweet treat or memorable meal.
If you go...
Base yourself at one of the hottest hotels in town, the stylish Shangri-La, located in the perfect spot to start your sightseeing — smack in the middle of the entertainment and financial districts, not to mention a stone's throw from the subway (Osgoode station). While there, enjoy spacious rooms complete with in-room iPads for all your hotel needs (order room service, book a spa treatment), deep Jacuzzi tubs, Nespresso machines, friendly service and free Wi-Fi. Elegant without being stuffy, the large light-filled lobby bar lends itself to lingering over a cup of tea (choose from 72 blends) or a glass of wine.
When you're not out enjoying the sights and sounds of Toronto, unwind with a swim in the 64-foot indoor pool, bathed in soft, natural light. Hop in the hot tub or infrared sauna if you really want to feel relaxed. Hungry? Make sure to grab a bite to eat at Bosk, the property's signature restaurant. Food is artfully plated, service is attentive and the setting is perfect for unwinding after a long day of wandering the city.
If you have time, we highly recommend treating yourself to an afternoon at the luxe Miraj Hammam Spa. Go straight for the bliss-inducing Hammam and Gommage steam and body exfoliating treatment for ultra-smooth skin from head to toe.
Coming in at just more than 1,815 feet, the CN tower is one of the world's tallest buildings. It was actually the world's tallest tower, building and freestanding structure from 1976 to 2010. Head to the LookOut level, a 58-second elevator ride up 1,136 feet for breathtaking views. Step out onto the highest glass floor in the world, 1,122 feet above the ground, or if you're feeling really bold, try the world's highest full-circle hands-free walk around the CN Tower's main pod, 1,168 feet above the ground.
From high-end luxury to independent designers to one-of-a-kind vintage finds, Toronto is a shopper's paradise. Peruse designer labels in the prestigious Bloor-Yorkville neighborhood, shop for contemporary finds along Queen Street West or discover independent designers and vintage items along Ossington Avenue and in Parkdale.
4
Wander the Distillery District
Cobblestone streets, unique shopping opportunities, art galleries and a wide selection of spots to refuel or simply grab a drink and people-watch, Toronto's Distillery District feels a bit like wandering through a quaint European city, which adds to its charm. This is also a great place to pick up a souvenir — you're likely to find something (jewelry, clothing) you won't see anywhere else.
While the weather is still ideal for outdoor exploration, head to one of Toronto's many parks with a makeshift picnic (pick up some bread, cheese and prepared salads from most grocery stores). We love the laid-back vibe of Trinity Bellwoods Park, nestled in the trendy West Queen West neighborhood. Or head to sprawling High Park in Bloor West Village. Outside the city center but still accessible is Rouge Park, Toronto's largest park (and soon to be Canada's first national urban park). This outdoor-lover's paradise is great for anyone craving a slice of nature not too far from the city.
6
Take in some art and culture
If you're craving some art and culture, don't miss a visit to two of Toronto's hubs for both — the Royal Ontario Museum (ROM) and the Art Gallery of Ontario (AGO). The ROM is Canada's largest museum of world cultures and natural history, and the AGO boasts a collection of more than 80,000 works of art. The AGO also received a stunning update from world-renowned architect Frank Gehry in 2008, well worth a look.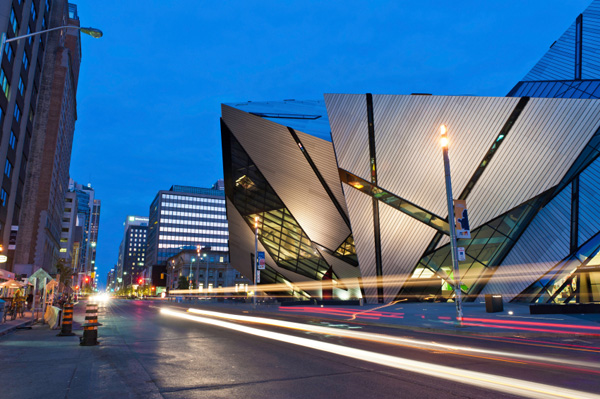 7
Eat your way around the city
No matter what type of meal you're in the mood for — from Italian and Greek to Indian, Chinese, Ethiopian or Mexican — you'll find it somewhere in the city. Toronto is a city of many cultures, and nowhere is that represented better than in the cuisine.
8
Check out St. Lawrence Market
Get lost in a maze of more than 120 vendors selling cheeses, fresh bread, meat, fish, spices, vegetables and just about anything else you can think of, in what was recently named No. 1 on a list of the top 10 food markets by National Geographic. If you get hungry being around all that food, head to Carousel Bakery for their legendary peameal bacon on a bun.
9
Take the ferry to the islands
Feel like exploring a little farther afield? Take a ferry across to the Toronto Islands. You'll get great views of the skyline along the way and find a variety of activities when you arrive. If you have kids, head to Centerville for the amusement park rides and carnival atmosphere. Rent a bicycle and ride around the island, hit the beach (but beware, Hanlon's Point Beach is "clothing optional"), rent a canoe or kayak to explore by boat or simply set out on foot to see what the area has to offer.
10
Get to know some neighborhoods
Much of Toronto's charm lies in its distinct neighborhoods, and if you really want to get to know the city, make a point of setting out to discover a few of these slices of Toronto, each with their own personality. In the west end, head for either the Junction or West Queen West — both offer an abundance of cafes, cute shops and restaurants. Going the other way, take in the Beach with its waterfront location, Greektown or Little India.
Next up
Pack your bags and join us next time when Frequent Flier heads for the white sand beaches of Malaysia's Perhentian Islands.
More travel tips and trends
Where to go now: Best late-summer destinations
Frequent Flier: A foodie's guide to Singapore
New Las Vegas hotels