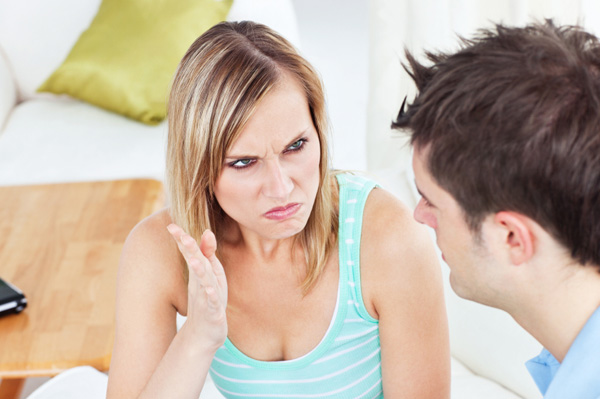 Anger management
Mars is the angry planet in Astrology. It doesn't like to be pushed around, and when push comes to shove, it will shove back — and hard. Uranus is the planet of rebellion. It doesn't like to be told what to do, and when it feels repressed, it will kick over the game board. When these two planets form a square (as they will on July 31), you can expect emotional outbursts. However, these will come from a totally unexpected quarter. Do what you can to mollify the situation. Everyone's looking to you to be the voice of reason in a storm of confusion.

ARIES (March 20 – April 18)
Expect trouble with men when Mars squares Uranus on July 31. You could be locking horns with your husband, flying to the rescue of your son or pulling out the cot for your brother to sleep on until he settles his differences with his girlfriend. The Mars/Uranus square could also indicate your taking your father's side in a family dispute — whether you agree with his position or not. It's important that he be heard, and it looks like the Stars have decided that you are the best person for the job.

TAURUS (April 19 – May 19)
You have every right to be skeptical of goodwill gestures. Nevertheless, favorable planetary aspects involving Ruling Planet Venus on July 30 and Aug. 2 show that a certain ex wants to make nice. Too much has happened for you to rebuild, and in truth, neither of you really wants to go back to the way things were. However, you do have to work together, so it makes sense to call a truce. Who knows? You might even get to the point where you can call each other "friends" one day.
---

GEMINI (May 20 – June 19)
You might want to take what friends say with a grain of salt. Your recent success has made you the object of admiration, but it has also turned you into someone to be envied. Friendships can be tricky during times like these, because the people who knew you way back when have a vested interest in you staying right where you are. Be open to the new faces popping up now. They have a clearer bead on the person you're becoming and aren't as invested in the person you were.

CANCER (June 20 – July 21)
You may wonder what's gotten into you this week. You'll be snapping at just about everyone, and that's to be expected when Mars squares Uranus. Mars is already an edgy energy in and of itself. Add the volatility of Uranus to the mix, and you will interpret every remark as a slight, an insult or a veiled criticism. The best thing to do is take a chill pill. And if you can't do that, then try a tai chi class. It's perfect for redirecting the energy in a more fluid way.
---

LEO (July 22 – Aug. 21)
It isn't easy to trust the decisions you're making nowadays — especially when you don't have the clearest idea of where you are going. Just about everything you do seems to fly in the face of people's expectations — as they are so quick to point out. Yet the wonderful thing about being a Leo is that deep down, you know you're right. There's a reason they call your sign "lionhearted," and that's because you have the courage it takes to be true to yourself, no matter what.

VIRGO (Aug. 22 – Sept. 21)
You have this fear of mixing and blending. It's why you go home late rather then spend the night, or why you keep a separate apartment even though you've lived with someone for years. There's nothing wrong with having "a room of one's own," but not if that sanctuary is a fortress in disguise. On July 31, you will get thrown a curveball. It could be a reduction in salary or the loss of said apartment. It's the Stars' way of pushing you closer to someone you knew you could trust all along.
---

LIBRA (Sept. 22 – Oct. 21)
Right now the Sun is traveling through that part of your horoscope that pertains to hopes and wishes. This sounds pretty good until you remember that wishes don't make the smoothest transition from desire to fulfillment. You'll discover this near Aug. 4, when something that benefits you comes at somebody else's expense. At first you'll want to return it, but wishes — like genies — are hard to get back into the bottle. Celebrate your good fortune, but next time be careful what you wish for because it might just come true.

SCORPIO (Oct. 22 – Nov. 20)
Being too critical can be just as foolhardy as being too optimistic. If you spend every waking hour finding fault, then chances are you won't be able to recognize merit when you see it. This Saturday, the Sun will form a dynamic trine to Uranus in the sky. This combines insight with enlightenment and signals a time when the scales will fall from your eyes. Take this opportunity to make the switch from a glass-half-empty perspective to seeing the glass as half full. It makes an enormous difference.
---

SAGITTARIUS (Nov. 21 – Dec. 20)
Hopefully, you've already made vacation plans. If not, then make them soon. You've been burning the candle at both ends recently and need to get away. Seeing new sights and visiting exotic locations is the very thing that will refresh your psychic batteries and enliven your spirit. Try to avoid party spots (like Club Med) or huge cruise ships that feature more-than-you-can-eat buffets. You need something more relaxed and intimate because it will be back to the grindstone once the Sun enters Virgo on Aug. 22.

CAPRICORN (Dec. 21 – Jan. 18)
The last-quarter Moon on July 29 shows a long-term association coming to an end. But this isn't world shattering like a breakup or job termination. It's more along the lines of a friend moving away, a colleague being transferred or a client doing a slow fade. You may wonder if you'll ever find a replacement. You will — and quicker than you think, thanks to the Sun/Uranus trine on Aug. 4. In fact, this new buddy will be so much fun that you'll have trouble remembering who the previous one was.
---

AQUARIUS (Jan. 19 – Feb. 17)
Aquarians are often looked upon as the Mr. Spocks of the zodiac because of their ability to detach and keep their cool while everyone else is losing theirs. But that doesn't mean you're indifferent to slights or criticism. Paradoxically, it's because you don't show what you feel that people unload on you. They see you as someone who can "take it." So on July 31, you might signal to them that you're only human. This will get them to stop, look and listen in ways that they haven't before.

PISCES (Feb. 18 – March 19)
Most people's spirits would sink if they had to contend with all the changes that you are making, but that's the wonderful thing about being born under Pisces. When it comes down to sinking or swimming, you swim. It's important to remember during times like these (especially on Wednesday) that adaptability — not survival of the fittest — is the key to evolution. Your willingness to explore options and to experiment with different approaches will get you around any obstacle. And when you think about it, aren't obstacles just a land-mass thing anyway?
More horoscopes
Your weekly love horoscope
Your weekly career horoscope
Your annual love horoscope for 2013