Why go for food?
Love to eat? Add Singapore to your must-visit list. Singaporeans take their food seriously. Eating is like a sport here, and no matter where you turn, there will be somewhere you can try a delicious meal, whether it's from a five-star hot-spot or tiny street stall. Singapore boasts a unique amalgam of cuisines and cooking styles — Malay, Chinese and Indian, to name just a few, thanks to its diverse population. This variety makes eating in Singapore an exciting experience and one any foodie should add to their culinary travel itinerary.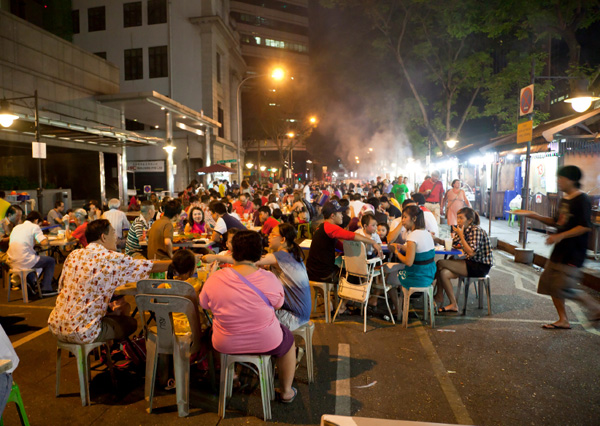 Where to stay
There's no better place for foodies in Singapore to stay than the ideally located, freshly renovated Pan Pacific Singapore. The chic lobby is inviting (more so than most hotel lobbies we've been to), and the decor is fresh, modern and crisp without sacrificing intimacy or a friendly vibe. Why should foodies get excited about Pan Pacific? Well, the food they offer, of course. Hai Tien Lo is their award-winning Cantonese restaurant with a contemporary twist, offering expertly crafted dishes in a relaxed yet stylish setting. We were equally impressed with Keyaki Japanese Restaurant, serving ultra-fresh, beautifully plated dishes in a serene setting that deftly balances traditional and modern.
We particularly love the fact that the Pan Pacific is within walking distance (Singapore is a very walkable city) to two well-known hawker centers (the best places to chow down in the foodie-focused city-state). You can hoof it to both Maxwell Road Hawker Centre and Lau Pa Sat (read more about those spots below) right from the hotel in 15 to 20 minutes at a leisurely pace.
Start your day
If you don't start the day with an indulgent and unforgettable breakfast at Edge, the Pan Pacific's interactive dining space (there are seven open kitchens and cuisines from around the world on offer), we recommend heading to Tong Ah Eating House (36 Keong Saik Road), an old-school kopitiam (picture a coffee shop crossed with a food court, only smaller) and ordering kaya toast and kopi (Singaporean coffee). Kaya is a creamy coconut-egg jam infused with pandan leaf. The dish is often served with soft-boiled eggs, and by soft we mean very soft (as in barely cooked). It's a local favorite, so give it a try, but if you don't love the egg (we didn't) stick with the strong, sweet caffeinated boost (most welcome) and the comforting kaya toast.
Other places to grab a great meal
If you only have a set amount of time to eat your way through Singapore, focus on hawker centers. They're cheap, tasty and a great cultural experience as well as culinary one.
Lau Pa Sat: This Singapore institution might cater more toward tourists than locals, but it's a great introduction to eating at hawker centers and offers a staggering array of choices, from pizza to Japanese to Indian and just about everything in between. Oh, and it's open 24 hours.
Maxwell Road Hawker Centre: Another popular choice, this busy hawker center is home to famous food stalls that often have long, snaking lines come lunch time. Ample seating and lots of choice make it a good option any time of day.
Chinatown Complex Food Centre: If you head here, be sure to make your way to Hai Seng Ah Balling to get a snack you won't soon forget. The stall is known for Singapore's answer to Japanese mochi, glutinous rice balls filled with a variety of fillings (often black sesame paste or lotus paste) and served in a sweet soup flavored with pandan.
Makansutra Glutton's Bay: Enjoy your meal with a great view of the Marina Bay skyline in this open-air food center, where all the local favorites (chicken rice, carrot cake) are on offer.
Hong Lim Market and Food Centre: Popular with locals, this bustling food center is home to numerous stalls spread out over two floors.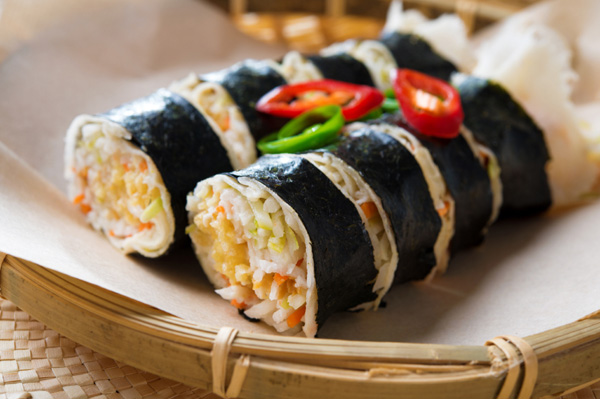 Don't leave without eating…
Carrot cake: Not the sweet dessert you're thinking of, this popular dish is actually made with white radish (not carrots), made into cakes and fried with eggs, spring onion, garlic and pickled radish.
Hainanese chicken rice: Singapore's national dish is simple but somehow a meal that makes you want to order it again and again. Bite-size pieces of steamed chicken are served with rice that's been cooked in chicken fat and accompanied by sliced cucumber, soy sauce and chili paste.
Laksa: Popular in Malaysia as well, this comforting curry noodle soup makes for a filling and flavorful meal, thanks to the rich coconut-curry broth and additions like prawns and cockles.
Char kway teow: A comforting dish of stir-fried flat rice noodles served at hawker centers and street stalls everywhere.
Popiah: These spring roll-like snacks are cheap and tasty. Thin wrappers are filled with shredded vegetables, prawns, eggs and sometimes meat.
Up next
Pack your bags and join us next time, when Frequent Flier is exploring the fun, fabulous city of Toronto.
More travel tips and ideas
Best hotels around the world for cocktail connoisseurs
Travel guide to Ho Chi Minh City
8 Eco-friendly resorts