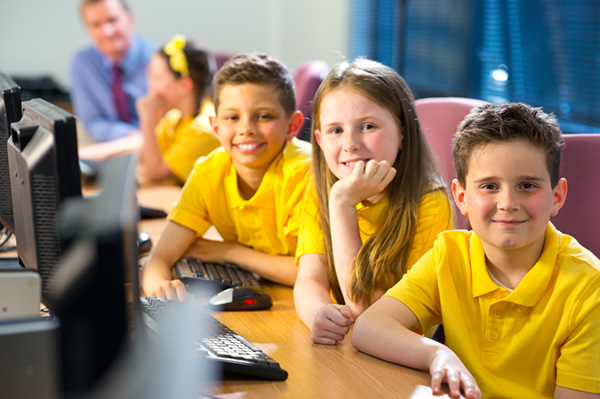 Why We Wear
School Uniforms
School uniforms are becoming more and more popular but are often met with resistance by our children. If your school is making the switch to uniforms, your children may initially not understand why they have to dress a certain way. Taking the time to explain uniforms to them can help make the transition easier and help to point out the many positive aspects of a school uniform. Here are a few key points you can address.
1
School uniforms help to increase positive behavior among students
Many experts believe that students who wear school uniforms behave in a more positive manner. This includes acting more professionally, taking pride in their appearance, scoring better on tests and generally behaving better in school. Explaining this to your children can help them understand why the school is implementing this kind of dress code.
2
You don't have to worry about what to wear
Not having to think about what you are going to wear to school that day makes getting ready in the morning that much easier. Plus, what kid wouldn't want the extra 10 minutes of sleep that not having to make a wardrobe decision provides? Additionally, there won't be arguments with parents over outfit choices.
School uniforms help to level the social playing field among students. Children are aware from a young age who has the newest and trendiest clothes, and this can result in competition and also may cause some children to be left out. When everyone wears the same thing, equality among students is promoted. You choose your friends by who they are and not by their clothes.
When everyone is wearing the same thing, a greater sense of team can be established. Often, a school T-shirt is part of the appropriate uniform, and that encourages students to take pride in their school and themselves. Feeling like a team furthers a sense of belonging and fosters happier students. Remind your children of the pride they have for their school and let them know that a school uniform can help them show that pride to the world.
5
You're free to express yourself on the weekends
Just because they're in school uniforms during the school day doesn't mean that kids will never get to express themselves. One of the biggest complaints among children is that uniforms take away their platform for self-expression. Remind them that after school and on the weekends, they get to wear the clothes they want to wear and that now those occasions will be even more special.
While this might not be the most exciting pro to school uniforms to your children, it still provides an excellent example and teaching point. When parents only have to buy certain things for school, it helps to cut down on costs. This is an opportunity to teach money management and budgeting. Remind them that if you're spending less on school clothes, there will be more money for fun things and maybe for a few fun pieces of clothing to wear on the weekends.
You might also like
The pros and cons of school uniforms
6 Ways to personalize a school uniform
Back-to-school fashion for kids