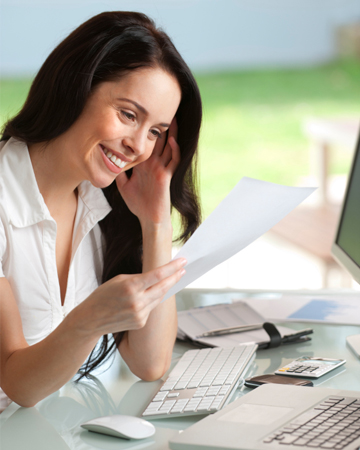 Don't let your resume collect dust
You might assume that your need for a current resume is about as important as keeping your business wardrobe tailored and trendy when you're a work-at-home mom, but your resume still matters — even if it's not going to be sent to an employer within the next decade.
In this issue of Working Mom 3.0, writer Stephanie Taylor Christensen explores why you shouldn't leave your resume to collect dust — even if you're days of working a 9-to-5 are a thing of the past.
1
You'll forget your progress if you don't keep track of it
Life moves fast when you work from home. Many days, it's a wonder you remember what you even accomplished by nightfall, let alone the real professional skills and tasks you're constantly developing. Though you may not have a new job title to add to your resume when you're a work-at-home mom, Jessica Bedford, a recruiter for Artisan Creative in Los Angeles, California suggests creating a resume section titled "Freelance Work" or "Consulting Work." Not only can this minimize the perception that you've taken time off from your professional pursuits if you do send your resume out to a potential client or employer, it will give you a clean place to categorize the new skills you learn as you take on new projects — while they're still fresh in your mind!
2
You'll see where you've lost ground
When you work at home and raise kids, no matter how accomplished you are, an odd shift in the old memory bank occurs. For example, you may be very well versed in the lyrics of Laurie Berkner, but all that daily terminology you used to incorporate into strategy decks and client meetings has become a hazy memory. Keeping your resume up to speed can serve as an invaluable "mirror" in recognizing whether your skills are keeping pace with your changing industry. Take a moment every few months to peruse job descriptions of roles that you would seek if you were looking to go back to work full time. Apply the key skill sets employers seek to scrutinize your own resume. Are you using language and keywords that are relevant? Are you highlighting experience consistent with what employers in your industry need? Do you still have all the in-demand skills, or could you benefit from additional training? Regardless of whether you intend to reenter the traditional workforce, you'll arm yourself for future success — wherever and however you choose to find it — when you stay current with professional trends.
When I first began freelance writing and teaching yoga, my resume was rather sparse in light of my career transition. Today, I have an active client list in the double digits and several hundred hours of yoga teaching experience to tout. I know it's worth celebrating, but all work-at-home moms face those bad days when all that we do just never feels like enough. When I start to feel like I'm losing ground, looking at my resume and remembering how far I've come in just a few years is a nice reminder of why the path less traveled really is more rewarding. It also helps me remember which areas of my nontraditional career I've lost focus of pursuing... but should.
Working Mom 3.0
The modern woman is redefining what it means to have a successful career. Rather than feeling torn between climbing the corporate ladder and having a happy family life, many women are choosing to merge the two and transition their careers from a traditional role to a more flexible one. Working Mom 3.0 is reinventing the definition of "working mom" as office hours are held at home and revolve around nap times.
This column begins by chronicling the experiences of Stephanie Taylor Christensen, a former marketing professional turned self-employed stay-at-home mom, writer and yoga instructor as she strives to redefine "having it all" on her own time and terms.
More tips for working moms
Working Mom 3.0: Self care is not selfish
Working Mom 3.0: Teach by example
Working Mom 3.0: Make room for your spouse
---
The opinions expressed in this article are of the author and the author alone. They do not reflect the opinions of SheKnows, LLC or any of its affiliates and they have not been reviewed by an expert in a related field or any member of the SheKnows editorial staff for accuracy, balance or objectivity. Content and other information presented on the Site are not a substitute for professional advice, counseling, diagnosis, or treatment. Never delay or disregard seeking professional medical or mental health advice from your physician or other qualified health provider because of something you have read on SheKnows. SheKnows does not endorse any specific product, service or treatment.