We've put together a guide on where to be based, where to stay, what to do and what not to miss.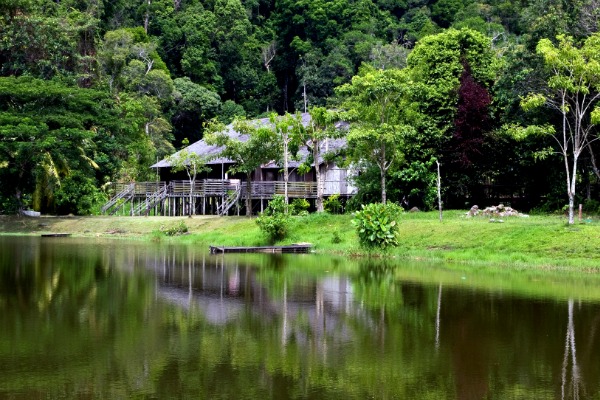 Getting there
From Malaysia's capital of Kuala Lumpur, it's under a two-hour flight to Kuching, the capital of Sarawak located in Eastern Malaysia on the island of Borneo. You can also fly direct from most major cities in Asia. Once you land, you'll need to go through customs (even if you've already been stamped into Malaysia). Sarawak is a semi-autonomous state and has its own customs regulations. Once you grab your bags and leave, any taxi can take you to your hotel, guesthouse or hostel of choice.
Why go
Steadily gaining popularly as both an adventure destination and an off-the-beaten-path spot for couples and families, this fascinating mix of jungle, city, small villages and nature reserves has something for every type of traveler. Whether you want to learn more about the local culture, climb a mountain, hike to your heart's content, or watch nature from afar (or up close), you won't be bored or disappointed by Sarawak.
Quick foodie tip: Don't miss out on Sarawak laksa, the local specialty. You'll find laksa — essentially a type of curry (either fish based or coconut based) — all over Malaysia and Singapore. However, Sarawak laksa is slightly different, brighter and fresher tasting than its counterparts. For a taste of laksa in a relaxed, riverside setting, visit James Brooke Bistro.
Where to base yourself
Kuching (which means cat in Malay) is the ideal spot to get to know Sarawak. Not only is it in the perfect location to get to some major attractions in the area, it's full of cute cafes, souvenir shops, restaurants and bars — not to mention beside a river, which makes for some gorgeous photo ops. Tour operators are also plentiful, so booking day or overnight trips to nearby attractions is a snap.
Quick tip: Shop around and ask questions at more than one tour operator to compare prices and what each tour entails. Be sure to be comfortable with the person or company you're booking with before committing to anything.
As for where to rest your head, we stayed at the lovely Lime Tree Hotel, a boutique property in a convenient location with friendly staff and a lovely rooftop lounge perfect for sipping a beer or lime-infused cocktail as the sun goes down. Rooms are cozy, but well appointed. The refreshing lime-scented multipurpose cleanser (used as a shampoo and body wash) is available for purchase from the gift shop (we stocked up on a few bottles).
What to do
Sarawak is a nature-lover's paradise and also a great place to learn about the local culture, or use as your base while experiencing a few strenuous adventure-based activities.
Cook: Our first stop was a taste of traditional Sarawak meal preparation, including a half-day at Bumbu Cooking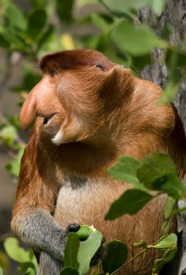 Class — an ideal way to get a better feel for the culture; how the locals shop and prepare food. The class began with a trip to the market where we stocked up on ingredients and learned about some of the local fruits, vegetables and spices. Each class consists of three dishes — a main entrée, side and dessert — and is hands on. The best part: You get to enjoy what you make. In our case, it was a fragrant curry, sautéed midin (a local jungle fern only found in Sarawak) and pandan coconut pudding (yum).
Get close to nature: We suggest spending a few nights in nearby Bako National Park, about a two-hour journey (via bus and boat) from Kuching. You can stay overnight in Bako with basic (rustic) accommodations, either private or dorm-style. If you want to get up close and personal with nature, this is where to do it. We spotted proboscis monkeys (also native to the area) dangling from trees almost daily, wild boars, numerous bird species and cute, but mischievous capuchin monkeys. It's easy to go on self-guided hikes from the registration area as long as you sign out and back in with a park worker. Trails range from easy to difficult and are well marked.
Monkey around: If you didn't get enough of the monkeys in Bako, a highlight of any visit to Sarawak (or Borneo in general) is a trip to an orangutan sanctuary. We spent a half-day on the lookout for those large but agile creatures at the well-run Semenggoh Wildlife Centre, established in 1975 to rehabilitate orphaned and injured orangutans. Be patient and you'll be rewarded with a fascinating look at some truly awe-inspiring creatures in their natural habitat. Note, there is nothing separating you from the orangutans so keep your distance, stay quiet and make sure your camera flash is off.
Next up
Pack your bags and join us next time when Frequent Flier heads to hot and steamy Ho Chi Minh City.
More travel tips and trends
Traveling NYC on a budget
How to eat like a local on your next trip
Frequent Flier: Take a beach break on Ko Phi Phi, Thailand