Celebrate Mexican Independence Day
Fire up the Cinco de Mayo festivities with crafts for kids that will put the fiesta in your fun. From DIY paper bag piñatas to homemade maracas, crack open these four Cinco de Mayo crafts for kids and let the festivities begin!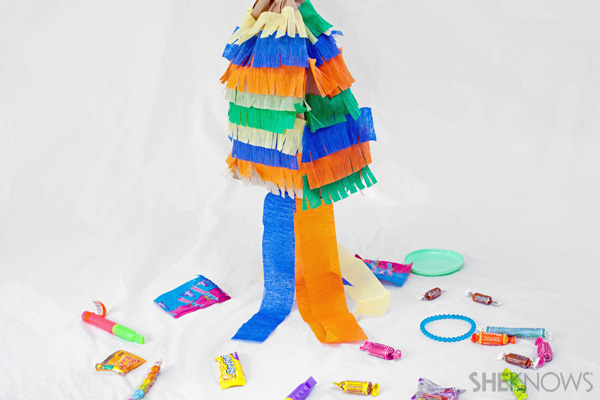 You don't have to empty your wallet to celebrate Mexican Independence Day when you create Cinco de Mayo crafts with the materials you already have at home! Turn a simple lunch bag, leftover streamers and goodies from your cupboard into a DIY piñata that is bursting with fun without breaking the bank.
What you'll need:

brown paper lunch bag
streamers
tissue paper (optional)
scissors
glue stick
1 rubber band
treats and toys
string or yarn
pole, stick or plastic bat
What you'll do:

Cut lengths of streamers to stretch across each side of your bag. Use scissors to fringe cut along one long edge. Repeat with your colors of choice.
Lay your folded brown paper lunch bag on a flat surface and glue stick the uncut edge of the fringed streamer to the bag, starting at the bottom. Overlap the next row slightly above the first row until you've reached four inches from the top, leaving room to close the bag. Repeat on other side.
Open lunch bag and continue gluing fringed streamers to the sides, using same technique.
Turning bag upside down, glue lengths of un-fringed streamers to the bottom of the bag.
Turn bag right side up and fill the inside of the bag with treats and toys.
Cut a length of string or yarn long enough to hang your piñata from up high.
Twist the top of the paper bag closed, lay end of the string along the twisted bag, and secure both together with rubber band.
Hang your DIY piñata from somewhere high and let your kiddos break it open with a pole, stick or plastic bat to unleash the Cinco de Mayo fun hiding inside! Just be sure you hang in a place with plenty of room to avoid doing damage to more than just your paper bag piñata.
Optional: To make it easier for younger kids to break open, use scissors to cut the bottom of your paper bag off, open up the bag and replace bottom by gluing a sheet of tissue paper to the bottom outside of the bag before adding fringe to sides.
These colorful "Eye of God" Cinco de Mayo crafts for kids not only carry on the cultural belief that the ancient God is all-seeing, but is also a fun fine motor skills activity that is pretty to hang around your home all year long.
What you'll need:
two popsicle sticks
yarn in colors of your choice
glue (optional)
What you'll do:

Hold popsicle sticks to form a T shape between your thumb and index finger. You can glue them together to make it easier for little fingers to maneuver this Cinco de Mayo craft.
With your other hand, wrap the yarn around the sticks diagonally three times in each direction to form an X.
Once your X is formed (no need to glue — the pressure will keep the string attached) wrap the yarn around one time on one stick of the cross.
Rotate your cross one quarter of the way and carry your yarn over to the next stick over, wrap once around the stick, and repeat one quarter turn at a time until you've reached your desired number of rows.
To change colors, tie ends of the yarn together and continue with your new color.
Wrap one stick at a time until you reach your desired number of rows, then tie off on the final stick, leaving enough string to hang this colorful Cinco de Mayo craft for kids.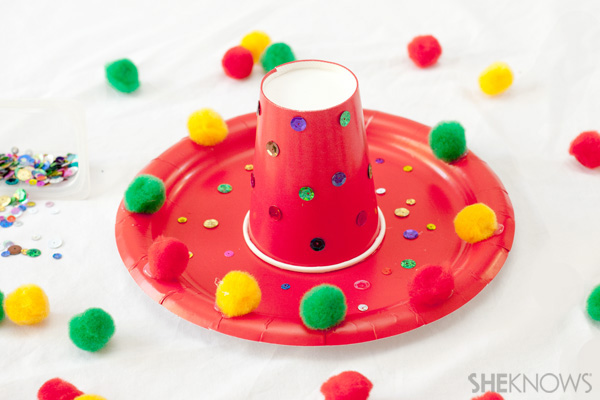 Your youngster will shout "ole!" over this DIY sombrero craft for kids! Just remember to match the cup and plate colors for a more authentic looking hat and let it dry completely before wearing.
What you'll need:
paper plate
paper cup
craft glue
pom poms
sequins or confetti
scissors
What you'll do:
Cut a half-inch strip of construction paper and set aside.
With the cup in one hand, have your youngster add glue to the top rim of the cup and adhere face down to the center of the paper plate, which should be face up on the table.
Have kids glue pom poms around the outer edge of the paper plate. Allow to dry.
Decorate the rest of the cup and plate with sequins or confetti, allow to dry completely and your Cinco de Mayo craft is ready for the festivities!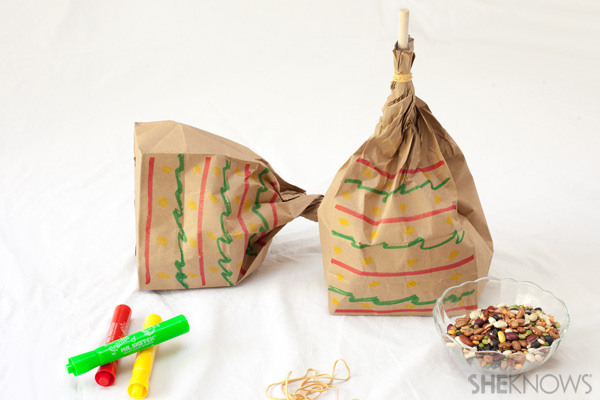 Whether you're shaking up some fun with crafts for kids that are easy to make or are looking for unique ways to celebrate Cinco de Mayo, these DIY maracas will be music to your youngster's ears!
What you'll need:
brown paper lunch bag
foil
dried beans
rubber band
wood dowel
green, red and yellow markers
What you'll do:
With your bag folded flat, let your kiddo decorate the bag with stripes, squiggles and dots.
Open up your lunch bag and line the inside with a sheet of foil.
Place a handful of dried rice or beans inside the bag.
Insert the dowel half inside the bag and gather opening of bag around the dowel; secure with rubber band and let your youngsters make their own Cinco de Mayo music with this easy and affordable craft for kids to help celebrate Mexican Independence Day!
Check out more crafts for kids
Kids' Choice Awards recipes to make slime for kids
Wine cork crafts for kids
Soda bottle crafts for kids