Give old crayons new life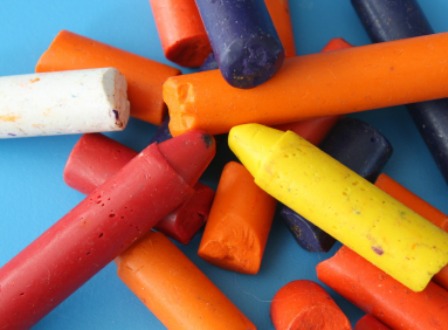 Don't throw away your broken crayons! Turn them into brand-new, beautiful crayons in any shape you want! It's easier than you think, and your kids will love it!
Save those broken crayons
There are few things more joyous than a brand new box of crayons, but it's not long before those sharp tips and untouched wrappers turn into crayon nubs and broken pieces. Don't throw those broken crayons away — use them again!
When you find a broken crayon, discard the paper (or recycle it!) and keep the crayon bit. Collect them all in a bucket or small tub until you have quite a few, then get to work making new ones.
What you'll need:
Broken crayons
Cupcake tins or silicone baking molds
Instructions:
Use a knife or your hands to break the pieces into smaller bits. Each original crayon should be broken into at least four pieces. The smaller the pieces are, the more you can fit into each mold.
Mix the pieces up in a bowl so all of the colors are well incorporated. If you want to make crayons of a single color, skip this step, and instead separate the pieces into colors.
Prepare your molds. It's best to use a mold that you don't plan on using for food again, so use old ones or a set that you've set aside just for this purpose. Foil disposable cupcake tins will work and make cleanup super easy! Any shape or size will work, so look for the silicone molds that come in fun shapes and characters! Don't grease the molds — it'll just give your crayons a weird film and make them difficult to color with.
Put your crayon pieces into the molds. Mix up the colors for a fun confetti look, or put one color in each mold for crayons of a solid color. Think about pairing up similar colors, like reds and pinks, oranges and yellows, and greens and blues, for pretty, swirled crayons. Make each section a little fuller than you think it should be, because as the crayons melt, they'll settle.
Place the mold or tins in a preheated, 225 degree oven for about 10 minutes, or until they are completely melted.
Remove the molds from the oven and let them harden and cool completely. This may take an hour or two, depending on the size of your crayons.
Pop the hardened crayons out of the molds and get to coloring! If they don't pop out easily, stick them in the freezer for about 10 minutes and try again. After a little time on ice, they should fall out of metal cupcake tins with just a tap.
Quick tip
To easily remove the paper wraper from crayons, soak them in cold water for 20 minutes before trying to take it off. Let them dry completely before you put them in the molds.
What else can you make yourself?
Make your own movie night tickets
Make your own cleaning products
Make your own bubble solution