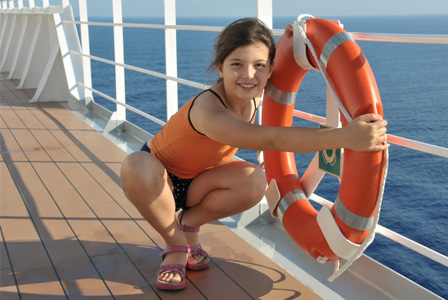 Planning a family cruise can be stressful. However, if you've ever been on a cruise, you'll know that it's one of the best ways to spend a family vacation. Here are a few steps that will prepare you for your next trip.
How to...
plan a family cruise
Step one: See a travel consultant
Don't know where to start? The biggest help you can get is from a travel consultant. Especially if this is your first time planning a cruise, you'll want to hire an agent who can plan it out for you step by step — the less stress, the better the vacation, right? Check out the friendly staff who we personally love at Travel Leaders and Holiday Cruises and Tours — they'll help you get on the right track!
Step two: Choose your destination
There are so many opportunities to travel to new places by cruise ship. You can go for a few days to the Catalina Island off the Southern California coast or for more than a week to Spain. Our favorite destination is anywhere with a beach, especially the Caribbean!
Step three: Choose your cruise line
We've narrowed it down to our three favorite family-friendly cruise lines. Disney is the most entertaining for the youngsters. Disney offers group babysitting, supervised activities for kids ages 3 to 17 and bike rentals once you arrive at the destination. Our next favorite is Royal Caribbean. This cruise line has a top-deck water park and a flowrider surfing machine, but it doesn;t stop there. The Royal Caribbean cruise ship is equipped with a video game arcade, ice skating rink and a rock climbing wall. Norwegian Cruise Line is our third favorite. It features a fun kids' playground at the stern of the boat and a giant ball bin and maze in the playroom. NCL also provides babysitting for kids ages 2 to 12.
Step four: Check out your accommodations
It's important to know what accommodations you'll want before you book your next cruise. Keep in mind that most ships only hold up to five people per room, so you'll want to double-check with your cruise line to make sure your family is comfortable. An extra you may want to look into is having a balcony. Most parents book rooms with a balcony and an inside cabin for the kids (across from the parents' room). Think about how you would like your room to be set up and talk to your travel consultant about making arrangements.
Whatever you choose, traveling by cruise ship is a lot of fun. By taking these steps, you'll be able to get a headstart on planning the trip of a lifetime with the fam!
More on cruise vacations
Planning a cruise for the family
Ships ahoy: Your guide to the perfect cruise vacation
5 Best cruises for teens