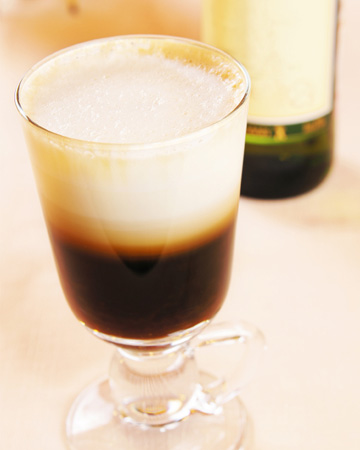 How to... put A little Irish in your cup
Even though St. Patrick's Day is over for the year, you can still get your Irish on with our foolproof recipe for an epic Irish coffee, complete with cream, whiskey, a little spice, and of course, a well-brewed pot of coffee.
You will need:
Coffee (6 ounces per person)
Irish whiskey
Brown sugar
Nutmeg
Liqueur (optional)
Step 1: Coffee is key
The key to perfect Irish coffee is in the coffee itself. It must be bold but not bitter, smooth but not sweet. Traditional drip-style coffee is most often used, but our favorite is using a French press with a medium- to dark-roast coffee. By allowing the coffee grounds to saturate the water first instead of forcing the water through a filter from the beginning, it opens up the characteristics of the coffee, highlighting its natural nuttiness and spice.
Step 2: Stirred, not shaken
Pour a cup of coffee, leaving enough room for other liquid ingredients. Next, stir in a shot of Irish whiskey, a half-teaspoon of brown sugar and a sprinkle of nutmeg until everything is well dissolved. You can also stir in about a tablespoon of liqueur like Bailey's Irish Cream for added sweetness.
Step 3: Get creamed
Whip heavy cream until peaks form; using a large spoon, scoop the cream and top off the coffee. Be careful not to mix the cream in the coffee; it should float on top.
For a more daring ritual, instead of using a cup or mug, use a thick wine glass. Dip the rim in water and coat the rim with sugar. With a match, tilt the sugar-coated glass rim over the flame to crystallize the granules. Be sure to not knock off the caramelized layer when stirring in ingredients. Enjoy and drink responsibly.
More Irish recipes
Irish recipes for St. Patrick's Day
Traditional Irish cream and cocktails
How to make St. Patrick's Day cocktails