How To... Make A
Dresser To Impress
In honor of Earth Day, we're celebrating those brave, crafty connoisseurs who make new uses of old items. So whether you're refashioning your mother's old dresser or came across a garage sale gem you're dying to redesign, here are some clever upcycles to give you inspiration.
(page 2 of 2)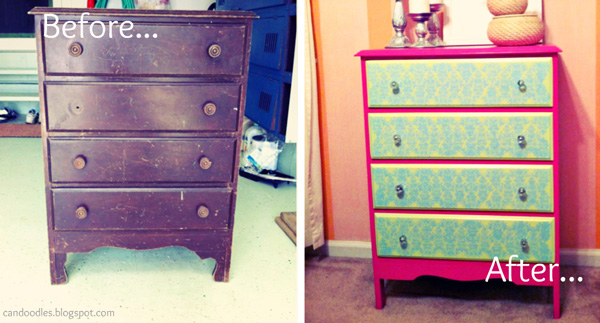 Dresser facelift
If you like your dresser and want to continue to use it as such, perhaps a little facelift is in order. That's what Candice of Candoodles: ReFab Diaries discovered when her friend shared the potential of a dresser from a grandparents' shed.
You will need:
Dresser
Sandpaper
Latex paint
Stencil and stencil brush
Knobs
Step 1:
Sand entire dresser.
Step 2:
Paint drawers and dresser with latex paint. Allow paint to completely dry before adding stencil on drawers.
Step 3:
For the stencil detailing on drawers, carefully use a stencil pattern and stencil brush (or sponge).
Note: Remove stencil pattern while paint is wet; latex paint will peel with the stencil if it is dry.
Step 4:
Add knobs.
More crafty advice
DIY framed jewelry holder
Top 10 SheKnows crafts of 2012
How to upcycle a desk