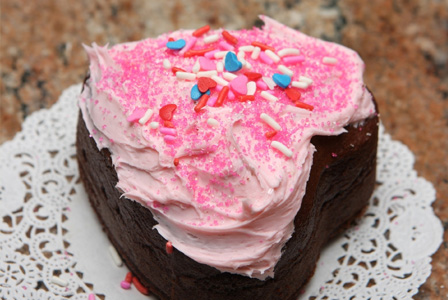 Making a special cake for someone you love this Valentine's Day? Don't fret. All you need is a round pan and a square pan. The rest is just geometry. Let us show you how.
Bake a heart
without a special pan
Step 1: Bake two cakes
To end up with one heart-shaped cake, you need to bake two cakes. Confused? Just trust us. Bake a cake in a 9-inch-square pan and another in a 9-inch round pan. Unless you're an expert pastry baker, just go ahead and use boxed mix — we won't tell anyone. When it comes to the flavor, use whatever you and your Valentine love best. Classic yellow cake tastes great, but chocolate has that extra touch of romance.
Step 2: Let your cakes cool
Before you try anything fancy, allow your cakes to cool. To best accomplish this, it helps to use a cooling rack. If you don't have one, get creative with a few trivets or an extra rack from your oven. When the cakes have cooled thoroughly, very carefully transfer the square cake to a large surface covered in foil. It's time to start doing surgery on your cakes.
Step 3: Construct the heart
You don't have to be a surgeon to carve a perfect heart. All you really need to do is cut a clean, even line down the middle of the round cake. When the cake has been sliced in half, very carefully transfer each half to the square cake. Attach each half to each of two adjacent sides of the square. See? It instantly creates a heart. If the sides are a little uneven, adjust and trim accordingly. When you're done, brush away all crumbs.
Step 4: Ice and decorate the heart
Icing is the hard part if you're a neat freak. If you're willing to let your cake look artfully messy, you'll have an easier time with this step. Create your own frosting if you're a skilled baker or use canned frosting for the easiest road to an awesome heart cake. At this stage, you can use a little frosting as tasty glue between the middle and rounded portions of your heart cake. Apply frosting over the entire cake with a frosting tool. It's worth spending $5 to have one of these on hand for all your cake decorating needs. Once the frosting is applied, add whatever sprinkles or additional decorations your valentine will love.
More baking ideas
Simple baking tips
Baking traditions with kids
Low-fat coffee cake