Look ghoulishly gorgeous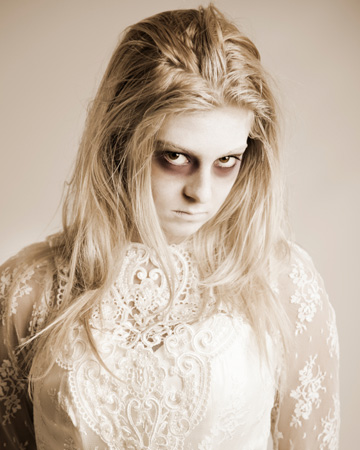 How to...
do ghost makeup
A ghost may be a scary thing, but being one for Halloween doesn't have to be! Try this SheKnows spin for a look that will take your costume from ghostly to glamorous.
Step 1: Prep your face
Before you begin, clean off any makeup, dirt or oil that may already be on your face. Because the look relies heavily on white makeup, a clean slate will work the best.
Step 2: Create a white base
Take a white makeup base and apply it generously all over your face using a sponge. Blend it around your neck, too. Set the base with a light, translucent powder.
Step 3: Apply nude lipstick
Apply a nude-colored lipstick or lip gloss to your lips. Choose a color that matches your makeup, but still has a hint of light-pink color.
Step 4: Define the eyes
Apply black or a deep plum eye shadow to your eyes, but extend it from your eyebrow to below your bottom eyelashes. You should look like you have two big black eyes.
Step 5: Add some detail
Take your look to the next level by adding glitter eyelashes and black glitter. Apply the glitter with a wet brush by lining the bottom edge of the eye shadow.
More Halloween tips
Halloween costumes & makeup ideas
How to create perfect animal whiskers
How to create a fake scar and stitches