How to... Put your best face forward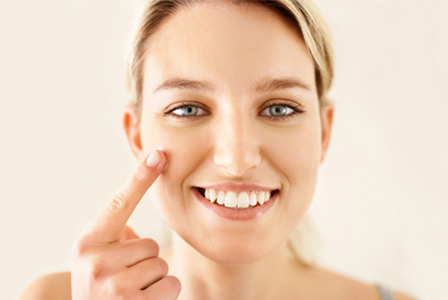 Fighting fine lines and wrinkles only gets harder as we age, so why not start protecting your most precious asset (your face, duh!) now?
Whether you have a ton of money to blow or are on a tight budget, we've got anti-aging moisturizers to help all women turn back the hands of time.
Steal: Olay Total Effects Daily Moisturizer
A seven-in-one anti-aging product? Yes, please! Olay's Total Effects Daily Moisturizer is infused with vitamins and anti-oxidants to really get your skin glowing, reduce the appearance of fine lines and wrinkles, minimize pores, even out tone and texture, diminish age spots, hydrate for a firmer look and help prevent future free radical damage. What more could a girl ask? (Target.com, $19)
Splurge: 37 Extreme Actives High Performance Anti-Aging Cream
Finally, a one-step skin care solution that addresses all of your anti-aging needs! This potent product features some of the world's best ingredients all packaged into one high-performance, must-have cream. It's proven to restore luminosity, soothe redness, protect from UV damage, boost skin thickness, clean up toxic damage, hydrate, fight aging in the cells and more. (Drmacrene.com, $295)
Steal: Olay Pro-X Age Repair Lotion with Sunscreen Broad Spectrum SPF 30
Protect your face from the sun and moisturize at the same with Olay's Pro-X Age Repair Lotion With SPF 30. Designed to guard against harmful UVA and UVB exposure, this double duty product also hydrates your skin, helping to downplay the appearance of fine lines and wrinkles. Age spots and sun damage? Nope, not anymore! (Walmart.com, $40)
Splurge: Neocutis Journee Bio-Restorative Day Cream with SPF 30
Combining PSP technology with antioxidants and broad spectrum UVA/UVB sun protection, there's no doubt that this anti-aging day cream goes above and beyond to do its job. It combats the signs of aging, hydrates and moisturizes your skin, drastically smoothes out fine lines and wrinkles and is surprisingly suitable for all skin types. Apply daily to your face and neck to achieve the best results. (Available exclusively through physicians, $80 to $120)
Steal: Olay Pro-X Hydra Firming Cream
This professionally tested, can't-live-without cream does exactly what it promises: optimizes elasticity and firmness by plumping and locking in moisture! Just smooth it over your face and neck at night for results that'll make you proud to divulge your age. (Walgreens.com, $40)
Splurge: LaFace Laboratories Cellular Regeneration Cream
Go all out and treat your face to a luxurious lift! Not only is this exquisite anti-aging cream scientifically formulated using a unique combination of active ingredients (such as rare Swiss apple stem cells), but it's guaranteed to deliver intense hydration, firm skin, boost collagen production, stimulate stem cell regeneration, improve uneven skin tone and reduce sagging, fine lines and wrinkles — and more as well. The price may be steep, but it's totally worth it. (Lafacelaboratories.com, $300)
More beauty
Best face washes and toners for acne-prone skin
Anti-aging tips for women of every age
Best skin care stocking stuffers