How To... Pick The Right Paint
Choosing paint colors for your home can seem overwhelming. Looking at hundreds of choices, you may feel like you'll never be able to decide. If you need a little guidance to find your perfect paint color, then follow these tips.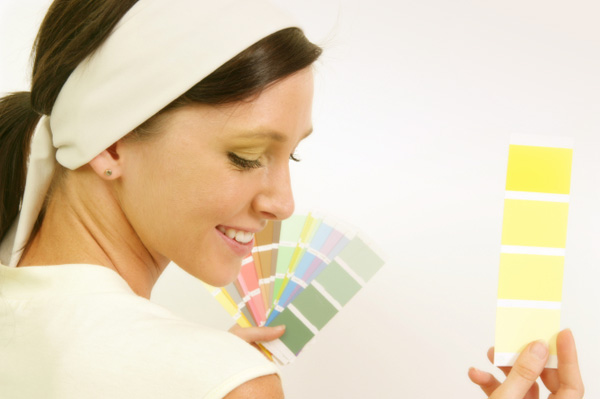 Step 1: Don't rush into it
You shouldn't pick your paint color until you have decided on the other elements in the room -- the furniture, rugs and other accent pieces. The paint color can be left until you are all done shopping for everything else.
Step 2: Start collecting paint chips
When you are planning your room, start collecting paint chips that you like. At first, it doesn't matter how the color will fit into the room -- just pick the shades that you like. Look at the paint chips in various lights to get a true sense of the colors.
Step 3: Choose a finish
Decide on which paint finish you would like. Keep in mind that flat finishes can hide imperfections on your walls, while glossy finishes reflect more light and can make a space look bigger.
Step 4: Pick a color family
Look at all the shades on a sample paint strip. Study the colors and decide if it's the color family you want. If you only like one of the colors on the strip, then you probably shouldn't settle on that particular shade. After all, you will need to add elements to the room in the coordinating colors.
Step 5: Play off of fabric
Take a look at the fabrics that are going to be in your room. If your couch is the focal point of the room and its covering is a printed fabric, you may want to use the background of the print as your wall color and the other colors in the pattern for your accessories.
Step 6: Consider an accent wall
If you feel a little daring, but not so daring that you want anything but neutral colors on your walls, step out of your comfort zone with an accent wall in a bold color. This is a great way to liven up a room and incorporate a little of your personality and design style.
Step 7: Ask for help
Your local home improvement store or paint store has professionals on staff to help you pick your paint color. Bring pictures of your room, talk about the goals of your project and show them which color families you like. Discuss the different types of paints and get an idea of what may be the best for you.
Step 8: Get a custom color match
You've finally found a color that you can fall in love with -- but it's not on a paint chip. Don't worry. You can bring an item (whether it's a fabric swatch, a photograph or something else) to the home improvement, hardware or paint store and find a place that offers custom color matching and mixing.
More decorating tips
How to paint a room with stripes
Hip interior design trends: Innovative wallpaper
Get kids involved in painting their rooms
More From SheKnows Explorer