How To... Make A Room Look Brighter
Dark rooms tend to look small and cramped, but with a few simple steps you can make your rooms look bigger and brighter. If you have a room in your home that doesn't get much natural light, brighten it up with these helpful decorating tips.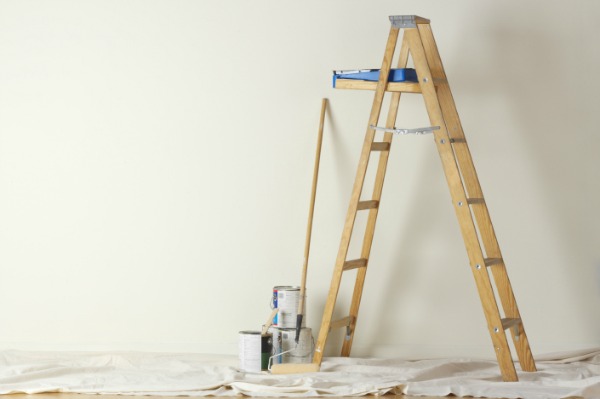 Step 1: Change your paint color
The easiest way to brighten up a dark room is by changing your paint color. Light colors don't necessarily mean stark white. If you want to stay neutral, you can use any color -- from creams to light greens to pale pinks. Use a paint with a glossy or semi-glossy finish to reflect the light, rather than flat paint that absorbs it. Consider using several different complementary colors of paint to really open up the space.
Step 2: Scale back your furniture
Too much furniture -- or furniture that is heavy and bulky -- can make a room look small and dark. Don't crowd too much furniture in the room. Add light slip covers and bright throw pillows to dark sofas. Replace bulky, ornate pieces with slimmer, sleeker items. Clear away any clutter.
Step 3: Change your flooring
If you have the budget, change out dark flooring for light wood or carpeting. If replacing the flooring is out of your price range, bring in area rugs comprised of light colors in complementary tones to your walls and furnishings.
Step 4: Change your window treatments
If the room has any windows at all, change out the drapes or blinds and use sheer panels to maximize the light.
Step 5: Increase the wattage
When a room doesn't have access to much natural light, you have to have a good source of lighting in the room. Place a table or floor lamp in the corner of the room to disperse the light throughout. Also, increase the wattage in all the lamps, recessed lighting and overhead lights.
Step 6: Add a large mirror
A large mirror will make the room appear more spacious, as well as reflect light to make it look brighter. Choose one large mirror in a nice frame, rather than several smaller mirrors.
Quick tip
If your dining room has a chair rail, paint a darker color below the rail and a lighter color above to make the room look bigger and brighter.
More decorating tips
How to paint a room with stripes
Hip interior design trends: Innovative wallpaper
Get kids involved in painting their rooms
More From SheKnows Explorer