Step 1: Yum rum
Pour 2 ounces of your choice of rum in a tall glass. Go with the best rum that suits your style. Malibu rum is lighter, while Bacardi rum has a heavier flavor.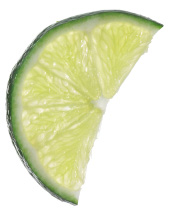 Step 2: Add lime
Squeeze two limes into the glass. Feel free to leave them limes in the glass.
Step 3: Basil out
Add two basil leaves for that fresh taste for those summer evenings. One large basil leaf will also do the trick.
Step 4: Minty fresh
Add five fresh mint leaves for an extra jolt of freshness. If you're a mojito lover, you know that the mint is one of the most important ingredients for that signature mojito flavor.
Step 5: Muddle the ice
Add a small amount of ice and muddle all ingredients. This will bring out the natural basil and mint oils, enriching the total flavor experience.
Step 6: Lemon-lime soda time
Add a little lemon-lime soda -- but not so much you overpower the delicate flavor balance.
Step 7: Shake it
Shake the drink well, add more ice if desired and serve to your guest or to another deserving person, such as yourself. Relax.
More Mojito Recipes
How to make a mint mojito
How to make the perfect mojito
Pink grapefruit mojito recipe