Step 1: Choosing the right bronzer
It all starts with the right bronzer and, according to Alexis Wolfer, founder and editor in chief of The Beauty Bean, different textures create different results.
She said, "Cream/mousse bronzers are great for women looking for the coverage of a foundation but with a bronzing tint. They go on smoothly, even skin tone and, like foundations, come in a variety of different consistencies to work on different skin types and for different preferences. If you are looking for this kind of coverage but hate the feel of foundation, try a mousse bronzer. If you are looking for a foundation that provides more color, consider just buying your favorite foundation a shade darker than usual -- just be sure to blend really well if you do!"
For a sunless "bronzed glow," Alexis advises using a bronzer with luminosity and/or shimmer. But take heed: This kind of bronzer exaggerates the look of any fine lines and wrinkles, making them appear deeper, so the shimmery look is best for young skin.
She added, "For more mature skin or to really contour your skin for more definition, a more traditional, matte bronzer is the way to go. It won't exaggerate any imperfections and will contour your face beautifully. Dab a bit of shimmery bronzer or highlighter on your cheekbones and brow bone to complete the look."
Step 2: Choosing a brush
Shana King, beauty director of Anisa Interntaional, Inc. and beauty blogger, advises using a large surface powder brush to evenly apply the bronzer to the face. There are several types to choose from, so pick the one that works best for you. She adds, "apply product directly to the tip of brush, if using a loose powder formula make sure to tap of any excess product before application."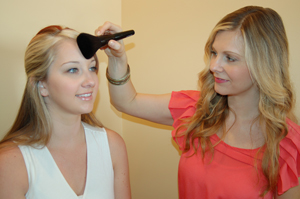 Step 3: Apply the bronzer
Shana says to start by applying the bronzer to the center of the face in "quick, sweeping motions" then blend the product outwards towards the hairline.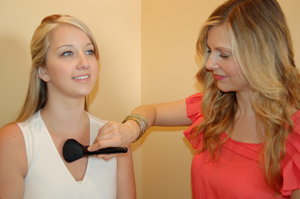 Step 4: Beyond the face
For a blended, natural look, apply bronzer upwards on the neck to the jawline. Ensure an even look by applying broker to the décolleté as well.
Give your whole body a sun-kissed glow with the best self tanner >>
Step: 5 The final look
This before and after visual comparison shows the subtle yet beautiful difference bronzer can make when applied correctly.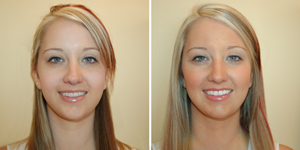 More beauty tips
Getting your skin ready for summer
Prepping your face for waxing
Must-have beauty products for gorgeous skin