How To... Set Up A Breading Station
Ever wonder why your breadcrumbs aren't sticking to your chicken cutlet? It could be because you haven't set up a proper three-stage breading station.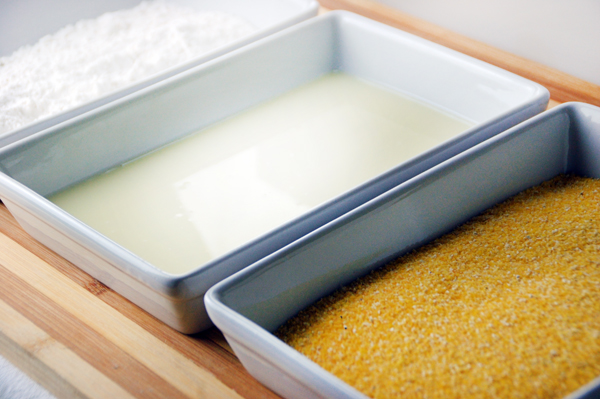 Officially known as "standard breading procedure," meat, fish, vegetables, cheese, eggs, and even a deep-fried candy bar all go through the same no-fail breading system when being coated in crumbs, using this step-by-step method.
Step 1: Flour
Fill one tray with flour; pat food dry with paper towels and then dredge in flour, shaking off the excess. The flour helps create a barrier between the breading and the food. Although regular all-purpose flour works best, any flour, even gluten-free flour, will do. The flour can be seasoned with salt, pepper, herbs and spices, or left unseasoned.
Step 2: Egg wash
Fill a second tray with egg wash to dip food in. You can use several well-beaten eggs by themselves, or an egg wash: a mixture of eggs and milk, eggs and cream, or eggs and water; use about one tablespoon of liquid per egg. As long as the mixture contains eggs and is mixed well, any of these combinations will work. The egg must coat the entire surface area of the food in order for the breading to stick.
Step 3: Bread crumbs
Fill a third tray with crumbs; coat the food in breading. Bread crumbs, crushed nuts, crackers, or a combination of ingredient can be used as breading. Gently press the food into the breading, shaking off the excess.
Step 4: Cook it
Fry breaded foods by adding a little olive oil to a skillet. Cook on both sides until the crust is crispy. You can also bake breaded foods. Drizzle a little olive oil on the food first and bake in a single layer on a cookie sheet.
Stuffed artichoke hearts
Makes 16
Ingredients:
4 large artichoke hearts, cooked and cut into quarters
4 ounces mascarpone cheese, room temperature
1/4 cup grated parmesan cheese
1/2 cup pancetta, minced and rendered until crisp
1 garlic clove, crushed
1/2 teaspoon crushed red pepper flakes
1/4 cup minced Italian (flat-leaf) parsley
1 tablespoon minced fresh rosemary leaves
Salt and pepper to taste
Breading ingredients:
1 cup all-purpose flour
Egg wash (2 eggs beaten with 1/4 cup of milk)
2 cups Italian-style panko crumbs
1/2 cup garlic-infused olive oil (1/2 cup of oil with one smashed garlic clove)
Directions:
In a medium bowl, mix the mascarpone, parmesan, pancetta, garlic, red pepper flakes, parsley and rosemary. Add salt and pepper to taste. Add approximately 2 teaspoons of the cheese mixture to the choke side of the artichoke and place in a single layer on a baking sheet. Place the baking sheet in the freezer for 20 minutes.
Set up the breading station. Place the flour in one dish, the egg wash in a shallow bowl, and the panko in a separate dish. Remove the artichokes from the freezer. Dredge the artichokes in the flour, dip in the egg wash, coat with the panko and place onto the baking sheet with the other ingredients. Repeat until all artichokes have been breaded. Preheat the oven to 425 F. Place the baking sheet in the freezer for 20 minutes.
Remove the artichokes from the freezer and lightly brush the tops with the garlic-infused olive oil. Bake at 425 F for 7 to 10 minutes or until the cheese is soft and the breading is golden. Sprinkle with salt to taste and serve.
More crumb-coated recipes
Breaded green tomatoes
Breaded veal with salad
Baked and breaded Italian pork chops