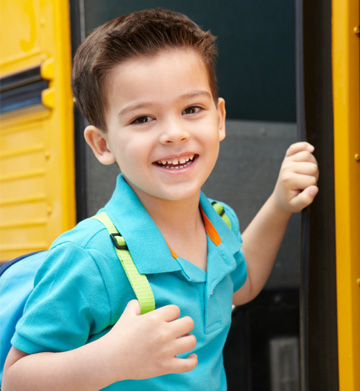 How to ... be on time everyday
A hurried, hectic morning can make you frazzled all day. With a little preparation and organization, you can simplify your kids' morning routine and get out the door on time with ease.
Step 1: Pick out clothes the night before
No matter how old your kids are, getting dressed in the morning can be a struggle. Have your children each pick out an outfit the evening before, complete with undergarments, shoes and accessories. If something isn't clean or needs repair, you'll know to set it aside so you can get it laundered or fixed.
Step 2: Get a head start
Clothes aren't the only thing you should prepare in evening. Do everything you can the night before. Make sure homework is done. Pack backpacks. Start preparing lunches. You should even plan breakfast and set the table before going to bed.
Step 3: Stick to a bedtime routine
Tired, crabby kids can definitely slow you down in the morning. By establishing a bedtime routine and sticking to it, you'll ensure your children are well-rested. After dinner, have some quiet time to allow the kids to wind down. Then after bathtime, it's storytime, teeth-brushing and lights out. Make sure your kids are getting an age-appropriate amount of sleep by staggering bedtimes according to age.
Step 4: Keep breakfast simple
No one should skip breakfast, but it shouldn't be a big production, either. Weekends are for making homemade pancakes and omelets. Weekday breakfasts should be simple. Make quick, healthy breakfasts like yogurt with fruit and granola, fruit smoothies and whole grain cereal bars. Forget about sweet cereals, sugary doughnuts and other heavy breakfast options.
Step 5: Don't turn on the TV
Kids of all ages (and adults too) can get easily distracted by the TV, video games and computers. Don't let these distractions slow down your morning routine. Make it a house rule -- no TV or other gadgets before school.
Step 6: Simplify your own routine
Sometimes it's not your kids who are wasting time in the morning -- it's you! Simplify your own morning routine and get out the door on time every day. Instead of fighting with your hair every morning, embrace the waves (or lack thereof) that you were blessed with. Get a low-maintenance haircut and cut back on the cosmetics. Try this 5-minute makeup routine. Keep your bathroom clean and organized. Also, use multipurpose beauty products to get ready in a flash.
More time savers for moms
Time-saving tips for working moms
6 Speedy kitchen tips for moms
Favorite time-saving tips