How To... Get Fit With Your Kids
Is your family in an exercise rut? Be an active role model for your kids with these 5 fun exercises you can do with your kids. Not only will you physically benefit from these exercises, but it is a great way to bond and connect with your kids.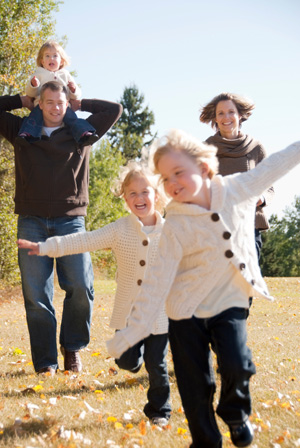 Exercising with your kids is a great way to get fit, be a good role model and even shed unwanted pounds. Check out our top picks for exercises you can do with your kids.
Step 1: Play tag
The game of tag may seem like only a childhood game at recess, but certified fitness professional Andia Winslow says it is actually considered a High Intensity Interval Training (HITT) work-out for all parties involved.
We know kids love tag, but how do parents fit in? "A friendly game of tag is a fun bonding opportunity that seems to be a pure game. Not so. Track athletes run sprint series from a dead stop. Basketball, football and softball players run lines as athletic drills. The same movement(s) is being exercised in tag," says Winslow. "The chase is exercise for all parties involved."
Step 2: Do partner exercises
Winslow says size is not a limiting factor when doing partner exercises with kids. "Children who regularly assist with or share in work-outs with their parents feel empowered and confident. They are part of a team and are developing leadership skills," she says.
Here are three of Winslow's favorite partner exercises with kids:
EXERCISE 1: PUSH-UP CLAP- Partners, both in push-up start position, align themselves opposite and head-to-head from one another. On the same count they perform a push-up and when returning to the start position they each clap one hand together with their partner. This move is fun, auditory and requires communication and synchrony - teamwork!
EXERCISE 2: WHEELBARROW PUSH-UPS
EXERCISE 3: JUMP ROPE - Do double dutch or jumping together in the same rope. "A lost art! Kids love it and jump rope games can go on for hours and can morph into countless variations. Not only does it attend to cardiovascular health, but it is also a high intensity compound workout. Think muscle building here," she says.
Step 3: Be a dancin' queen
Mom Annie Pryor says she has lost most of her baby weight by dancing with her kids. She finds that putting on music and dancing around the house is a great exercise when you have little time to spend at the gym and during the winter months when it is too cold to go outside.
"We play Cotton Eyed Joe, The Future has Arrived, Life is a Highway, Girls Just Wanna Have Fun, and finish up with the Superman theme song. We dance, and run, and jump. I add a few squats and leg kicks to my routine. Everyone has so much fun, and we all get our exercise. It is great cardio," she says. "I highly recommend dancing to these great songs for 'family exercise time.' No gym membership, stylish work-out clothes or Wii required."
But if you do have a Wii....
Step 4: Try interactive and Wii exercise games
"My family's Wii game system not only gives us exercise, but there are many games which provide friendly competition," says professional speaker Darcy Keith. "My 7 year-old daughter and I dance side-by-side to see who can score the highest on Just Dance. We also bowl, play Frisbee golf, compete in Mario Cart and much more! It's given us a deeper bond by playing as a family, as well as allowing us to teach our daughter how to be a good sport."
Fitness expert PJ Stahl, MA, CSCS says there are many interactive fitness video games, including yoga, kickboxing, dual fitness challenges and more. "For the next family night, buy some construction paper and create a tournament bracket. Your family will be battling it out in a healthy way to compete for 'family member of the week.' Give this winner some weekly perks: pick dinner one night, pick a TV show to watch, etc. The incentive will keep them motivated and the fitness-oriented challenge will keep your family on track for a healthy lifestyle," he says.
Step 5: Create an activity day, NOT an exercise day
"Take the family bowling, to a rock wall, to a water park or even a high ropes course," says Stahl. "These activities are fun and adventurous for the whole family and do not have the negative connotations of 'working out' that kids don't want to hear. These events will not only keep your family physically active, but will also give your family a chance to communicate and bond during a day full of fun challenges and fitness!"
More healthy family tips
15 Ways to raise a healthy child
10 Tricks to get kids to eat more fruits and veggies
10 Ways to keep your family energized all day
5 Exercises kids love


For more ways to get your family moving, check this out:
10 Ways to encourage an active family lifestyle
More From SheKnows Explorer