Perfect Bacon
And Sausage
Armed with a few simple tips, you can have expertly cooked bacon and sausage in your home kitchen any day of the week.
Bacon
When it comes to cooking bacon, there's no denying that the oven yields the most dependable results. Haven't tried this method? You might never go back to cooking it on the stovetop again. Even better, cooking bacon in the oven makes for easy cleanup and is the best way to cook for a crowd.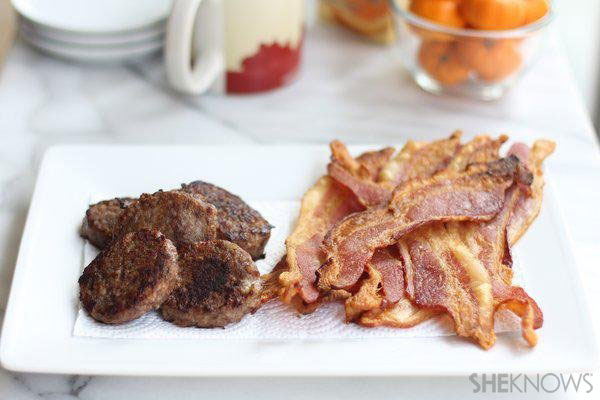 Here's how to do it:
Preheat the oven to 400 degrees F. Line a baking sheet with foil.
Spread bacon out in a single layer on the baking sheet so that the strips are barely touching. Tip: For extra-crispy bacon, top the foil-lined baking sheet with a metal cooling rack. Put the bacon on the rack. All of the grease will drip down to the foil below, giving your bacon extra crunch.
Cook the bacon until it is deeply browned and reaches your desired degree of crispness, for about 15-20 minutes. (There is no need to flip the bacon during cooking — both sides will cook evenly.) Transfer the bacon to paper towels to drain.
Sausage
Breakfast sausage needs to be cooked through, brown on the outside and not too greasy. One simple trick makes this easier to achieve every time. The key is to first cook the sausages in a bit of water. Place a large saute pan over medium-high heat and add just enough water to barely cover the bottom of the pan. When the water begins to simmer, add the sausages (patties or links will work using this method) in a single layer and simmer until the water is cooked off and the sausages begin to sizzle in rendered fat.
Continue cooking the sausages until they're deeply browned on one side, for about 5-10 minutes (depending on their thickness) . Flip the sausages over and continue cooking on the other side until they're browned. Remove them from the pan and serve.
More on breakfast and brunch
Ham, egg and cheese breakfast bread pudding
Breakfast quesadillas
Italian sausage and egg casserole